Print me
Introduction
Every Italian cook has a favourite version of Ragu Alla Bolognese. This is mine, which is my mother's recipe and maybe my grandmother's as well. It is served with tagliatelle or used to make lasagne and other baked pasta dishes but is never served with spaghetti.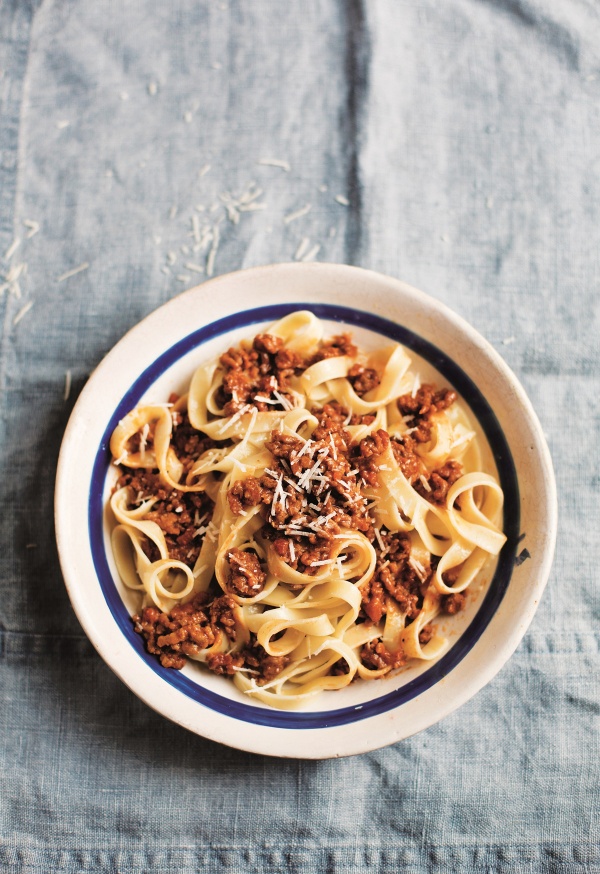 Ingredients
Makes: enough for 4 helpings of pasta
50 grams unsalted butter
2 tablespoons olive oil
100 grams unsmoked pancetta (finely chopped)
1 small onion (very finely chopped)
1 small carrot (very finely chopped)
1 small stalk celery (very finely chopped)
200 grams lean braising steak (minced)
200 grams minced pork
75 millilitres red wine
2 tablespoons tomato puree
100 millilitres hot chicken stock or meat stock
a grating of nutmeg
salt
freshly ground black pepper
75 millilitres full-fat milk
Please note that nigella.com is not able to accept responsibility for any substitutions that Ocado may need to make as a result of stock availability or otherwise. For any queries, head to ocado.com/customercare.
Feel free to use the "swap" feature and adjust brands and quantities as needed.
Method
Ragu Alla Bolognese is a guest recipe by Anna del Conte so we are not able to answer questions regarding this recipe
Heat the butter, oil and unsmoked pancetta in a deep, heavy-bottomed saucepan and cook gently for 2-3 minutes. Add the onion, carrot and celery and cook over a medium heat until the vegetables are soft, stirring frequently.
Add the beef and pork and cook until the meat has lost its raw colour. Pour in the wine and boil briskly for 2-3 minutes, until the liquid has almost evaporated.
Add the tomato puree, diluted with hot meat stock or chicken stock, season with nutmeg, salt and pepper and cook for 5 minutes, stirring frequently.
Meanwhile, bring the milk to simmering point in a separate small pan. Pour the milk over the meat (the liquid should just come level with it) and stir thoroughly. Cook, uncovered, over the lowest heat for at least 2 hours. The ragu should not boil, but just break a few bubbles on the surface. Stir occasionally during cooking and taste and adjust the seasoning at the end.
Other recipes you might like