Print me
Introduction
Cenci literally means 'rags', which describes the crimp-edged, twisted shapes of this deep-fried pastry that appears in Florentine bakery shop windows during the wintery month of Carnevale (Carnival). Many Tuscans get that nostalgic look in their eye when they eat cenci, as it's a reminder of dressing up in masks and costumes as a child and biting into these warm, crunchy pastries.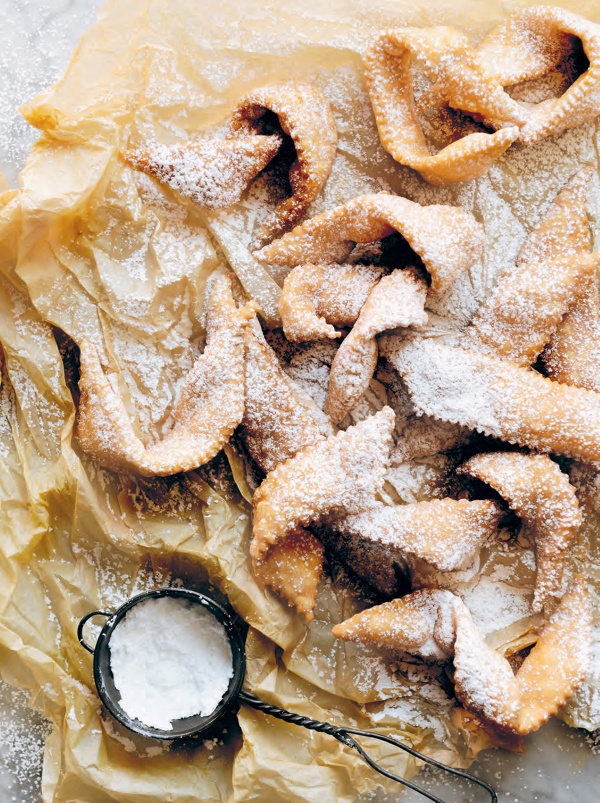 Ingredients
Makes: about 25 cenci
240 grams plain flour
1 tablespoon caster sugar
1 pinch of salt
1½ tablespoons olive oil (plus extra for deep-frying)
2 eggs (beaten)
1 tablespoon alchermes (or use rum, vin santo or grappa)
zest of 1 lemon
icing sugar for dusting
Please note that nigella.com is not able to accept responsibility for any substitutions that Ocado may need to make as a result of stock availability or otherwise. For any queries, head to ocado.com/customercare.
Feel free to use the "swap" feature and adjust brands and quantities as needed.
Method
Cenci is a guest recipe by Emiko Davies so we are not able to answer questions regarding this recipe
Sift the flour, sugar and salt into a bowl. Make a well in the centre and add the 1 ½ tablespoons of oil, and the eggs, Alchermes and lemon zest, and beat with a fork, starting from the centre and moving out to incorporate the flour. Finish with your hands to make a compact ball of dough. Wrap the dough in plastic wrap and let it rest for at least 30 minutes.
Roll out the dough on a lightly floured work surface to 2–3 mm (1/8 in) thickness. With a frilled-edge pastry cutter, cut strips of dough about 2.5 cm (1 in) wide and 10 cm (4 in) long.
Heat enough oil in a saucepan so that the dough will float. If you have a sugar thermometer, use it to determine when the oil reaches 150C (300F). The dough needs to fry evenly, not too fast and not too slow. You can test with small pieces of leftover pastry dough – the oil is ready to use when the oil starts to bubble immediately, surrounding the dough entirely with tiny bubbles.
Deep-fry the cenci in batches, twisting them or knotting them as you drop them carefully in the hot oil. Cook for about 20–30 seconds per side until a golden-caramel colour. Remove with a slotted spoon and leave to drain on paper towel.
They should not be oily or greasy at all, but crisp and dry. Dust with plenty of icing sugar while hot and serve warm or cold with a small glass of vin santo.
These are best eaten the day they are made.
Additional Information
Traditionally these are fried in lard, which is an excellent medium for frying for its non-greasy results (despite what many mistakenly think). A not-so-fruity olive oil is the next best choice, but try to avoid using peanut oil. Alchermes, a centuries-old Florentine liqueur, lends the pastry a slightly spiced perfume but you could substitute rum or vin santo or, as Artusi does, even grappa.
Other recipes you might like