Print me
Introduction
These are so delicious with drinks. Do not deprive yourself.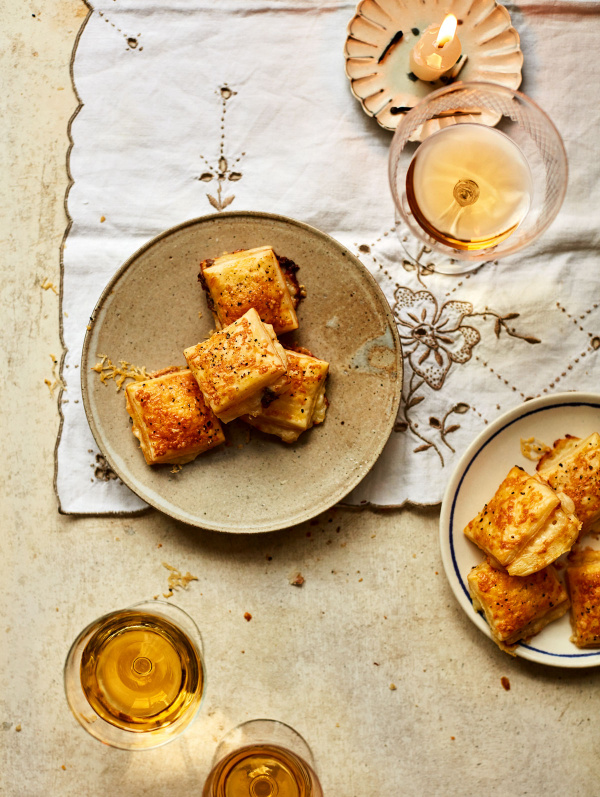 Ingredients
Makes: about 25, depending on the size of the pastry
2 rectangles of ready-made all-butter puff pastry (approximately 32 x 23cm)
100 grams Gruyere cheese (grated)
10 - 12 anchovies in oil (drained and roughly chopped)
1 egg (lightly beaten with 1 tablespoon water)
FOR THE BÉCHAMEL
20 grams unsalted butter
1 small shallot (finely diced)
1 small bay leaf
20 grams plain flour
250 millilitres full fat milk
50 grams Gruyere cheese (grated)
2 teaspoons Dijon mustard
salt and freshly ground black pepper
Method
Gruyére and Anchovy Puffs is a guest recipe by Debora Robertson so we are not able to answer questions regarding this recipe
First make the béchamel. In a small saucepan over a medium-low heat, melt the butter. Add the shallot and the bay leaf and sauté for 5 minutes, stirring now and then. Add the flour and stir constantly for 3–4 minutes, then remove from the heat and gradually whisk in the milk until smooth. Return the pan to a medium heat and stir until the sauce simmers and thickens, about 5 minutes.
Remove the pan from the heat and add the cheese, stirring until it melts, then stir in the mustard. Taste and season well with salt and pepper. Decant on to a plate, cool, cover with cling film and chill in the fridge until very cold. You can do this the day before if you like.
Lay one of the sheets of puff pastry on a chopping board and spread with the béchamel, all the way to the edges. Scatter on two-thirds of the cheese and all the anchovies, making sure they're evenly spaced across the pastry. Lay the second sheet of pastry over the top and press it down lightly.
Chill for 15 minutes in the fridge. If you're making these for a party, you can prepare them to this stage up to 6 hours ahead.
Preheat the oven to 200°C/180°C fan/gas 6. Line a baking sheet with non-stick baking parchment or Silpat. With a sharp knife, cut the pastry into approximately 4–5cm squares. Place them on the prepared sheet with a little space between them so they can puff up a bit. Brush with the egg wash and scatter the remaining cheese over the top. Add a few grinds of black pepper and bake for 12 minutes, until golden. Serve immediately.
Additional Information
ALTERNATIVE:
This is a simple recipe which lends itself to endless adaptations. Try Cheddar with ham, goat's cheese and figs, or chopped black or green olives with crumbled feta.
Other recipes you might like