Print me
Introduction
Kimchi is Korea's national dish and you will never be served a meal without it, so this classic cabbage kimchi is a good place to start. Making your own kimchi does take a bit of time, but once done it sits in the fridge for months and the taste is better than shop-bought brands. The salted baby shrimp is optional - it gives the kimchi a slightly more pronounced fish flavour that is popular with Koreans, but if you are unsure, just leave it out. This will need at least two days in the fridge to ferment before you can begin eating it. When using kimchi, take out only what you need and never return any unused kimchi to the jar - just store it, covered, separately so as not to contaminate the main jar.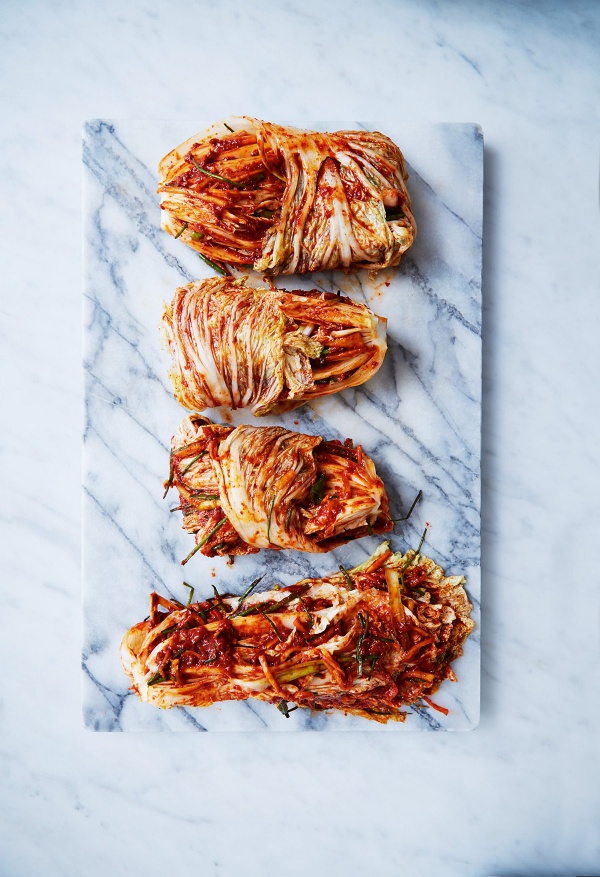 Ingredients
Makes: approximately 2kg
1 large chinese cabbage (about 1 kg)
50 grams table salt
70 grams sea salt
450 grams daikon radishes (cut into fine julienne strips)
30 grams chives (cut into 4cm lengths)
4 spring onions (halved lengthways and cut into 4cm lengths)
For the flour paste
1½ tablespoons glutinous rice flour or plain flour
For the paste
8 cloves garlic
20 grams ginger
100 grams onions
1 tablespoon salted baby shrimp (saeujeot) (optional)
70 grams gochugaru red pepper powder
100 millilitres fish sauce
2 teaspoons soy sauce
1 tablespoon unrefined sugar or coconut palm sugar
2 tablespoons rice vinegar
Method
Classic Cabbage Kimchi is a guest recipe by Jordan Bourke and Rejina Pyo so we are not able to answer questions regarding this recipe
Start by preparing the cabbage. Cut about 10cm deep across the base of the cabbage, then gently split the entire cabbage in half lengthways and rinse well under running water, rinsing well in between the leaves.
In a large flat bowl or container, combine 1 litre of water with the table salt. Sprinkle the sea salt over each leaf of the halved cabbage, focusing your attention on the thicker root end and working up to the thinner leaf. Place the cabbage cut-side down in the bowl of salted water. Leave to soak for 2 hours, then turn over and soak for a further 2 hours until the leaves are limp and bend easily without breaking.
Drain the cabbage and rinse it carefully under running water at least twice. Taste the cabbage leaf - it should be very salty, however if it is too strong, rinse it again and then drain it completely.
Meanwhile, make the flour paste. Mix the flour with 2 tablespoons of water, using a fork or whisk to ensure there are no lumps. Once you have a smooth paste, gradually pour in 230ml of water, stirring to combine. Place the mixture in a saucepan, bring to the boil, stirring all the time, then reduce the heat to low and simmer gently for 5 minutes until thick and gelatinous. Remove from the heat and leave to cool completely.
In a food processor, combine all the paste ingredients and the cooled flour mixture until you have a smooth paste. Transfer to a large bowl together with the daikon, chives and spring onions and mix well until thoroughly combined. Carefully spoon (or use your hands) the mixture onto the drained cabbage halves, making sure to cover every leaf with the mixture. Taking the outer leaf of each cabbage half, wrap it around the cabbage to keep the mixture secure.
Put the cabbage into a sterilised jar or other airtight container, leaving about 3cm between the cabbage and the lid. Seal tightly. Keep the jar at room temperature for 2 days, by which stage it should have begun to ferment and smell a little sour. Use a spoon to press the kimchi down, submerging it in its own juices. Seal the container again and refrigerate. Most people find they like the kimchi best after a few weeks in the fridge, others like it after a month or 2 when it has a bit more of a sour kick to it. Try it out at intervals and see when you like it best.
Other recipes you might like