Print me
Introduction
All these ingredients come together to create a simple, sweet, salty, spicy, earthy pasta that is dead simple to make. Leftovers make a great frittata: warm them in an ovenproof skillet, add some cheese, pour in beaten eggs, and bake. The bits of pasta that stick out will get crunchy in the oven..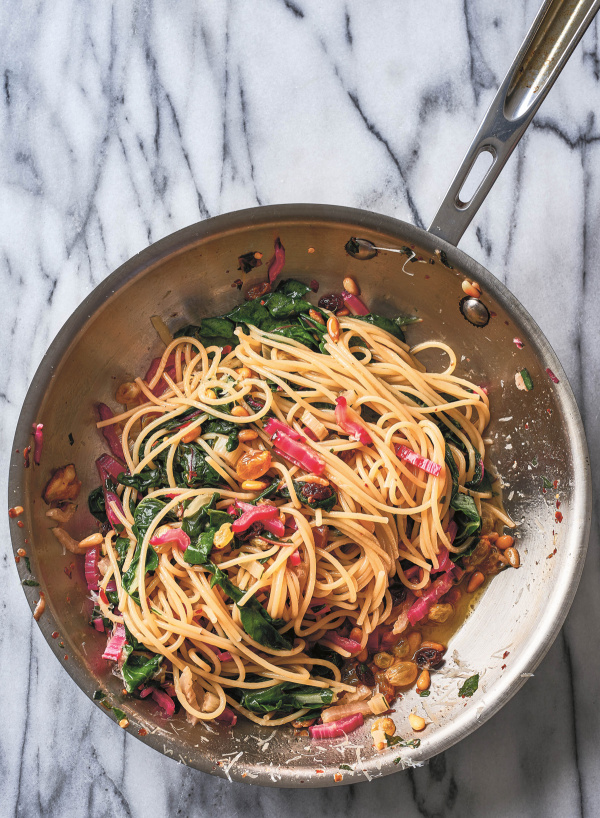 Ingredients
Serves: 3 - 4
½ cup raisins
red wine vinegar
kosher salt
freshly ground black pepper
8 ounces spaghetti or tagliatelle, or angel hair
extra virgin olive oil
2 cloves garlic (thinly sliced)
½ cup pinenuts
½ teaspoon dried chile flakes
1 bunch Swiss chard (dried ends trimmed, stems thinly sliced, leaves torn into strips)
3 tablespoons unsalted butter
parmigiano reggiano cheese (for grating)
Please note that nigella.com is not able to accept responsibility for any substitutions that Ocado may need to make as a result of stock availability or otherwise. For any queries, head to ocado.com/customercare.
Feel free to use the "swap" feature and adjust brands and quantities as needed.
Method
Spaghetti with Swiss Chard, Pine Nuts, Raisins, and Chiles is a guest recipe by Joshua McFadden so we are not able to answer questions regarding this recipe
Combine the raisins, a splash of vinegar, and warm water just to cover in a bowl and plump for 20 minutes. Drain.
Bring a large pot of water to a boil and add salt until it tastes like the sea. Add the spaghetti and cook according to the package directions. Start tasting a minute or so ahead of time so you don't overcook it. With a ladle or a measuring cup, scoop out about 1/2 cup of the cooking water, and drain the pasta well.
Meanwhile, pour a healthy glug of olive oil into a large skillet over medium-low heat. Add the garlic and pine nuts and let them toast very slowly until lightly browned, about 5 minutes. Add the chile flakes and cook for another 10 seconds so they can bloom, then add the drained raisins.
Increase the heat to medium, add the chard stems, season with a bit of salt and black pepper, and cook slowly until the stems are slightly tender, 3 to 4 minutes. Add the torn chard leaves and a splash of water (use the pasta water, if the timing works), cover the pan, and cook until the leaves are wilted, 2 to 3 minutes.
Add the drained pasta and the butter to the chard and toss well. Taste and adjust the seasoning with more salt, black pepper, or chile flakes. Grate a bit of Parmigiano over everything, drizzle with more olive oil, and pile into bowls. Serve with more grated cheese.
Other recipes you might like