Print me
Introduction
Fattet Hummus is one of my favourite types of dish – it is warm, hearty, packed with a tangy zing of garlic and brings back the comfort of home every time. This type of dish is usually eaten during Ramadan but it is also often enjoyed for breakfast on a Friday, or for a Sunday lunch. This dish is enjoyed hot and should be eaten as soon as it's made otherwise the bread will go soggy. My mum made this often at home – there was always a scramble to get your spoon in first to make sure you got the crunchy bread at the bottom. But in all honesty the softer bread tastes sublime too – full of the yogurt, lemon and tahini flavour.
Chickpeas are packed with iron, zinc and protein, making them an excellent choice for non meat eaters to get their daily burst of much-needed energy and vitamins.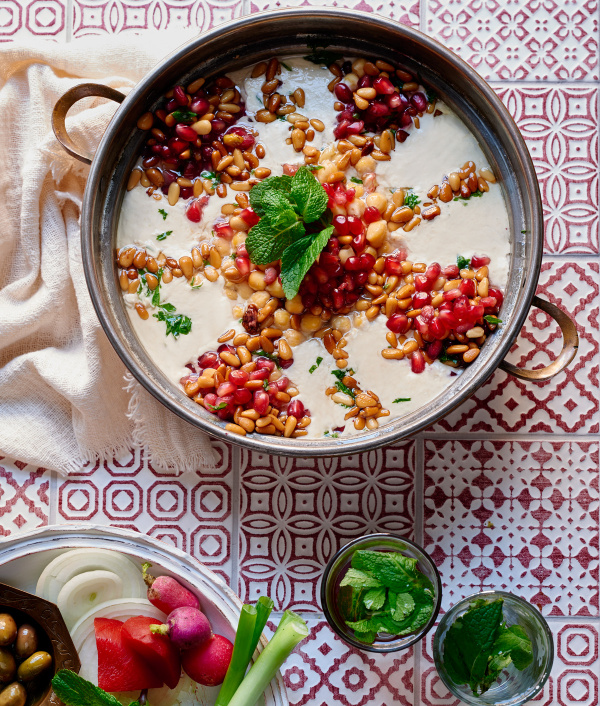 150 millilitres tahini
375 millilitres Greek yoghurt
1 clove garlic (crushed)
1 fresh green chilli (finely chopped)
juice of 2 lemons
4 pitta breads (cut into diamond shapes)
olive oil (for drizzling)
1 bunch fresh flatleaf parsley (chopped)
paprika (for sprinkling)
1 pomegranate (seeded)
100 grams toasted pinenuts
sea salt
black pepper
fresh mint (to garnish)
For the hummus
800 grams tinned chickpeas
juice of 2 lemons
1 clove garlic (crushed)
2 tablespoons tahini
1 tablespoon Greek yoghurt
1 teaspoon sea salt
Please note that nigella.com is not able to accept responsibility for any substitutions that Ocado may need to make as a result of stock availability or otherwise. For any queries, head to ocado.com/customercare.
Feel free to use the "swap" feature and adjust brands and quantities as needed.
Method
Fattet Hummus is a guest recipe by Joudie Kalla so we are not able to answer questions regarding this recipe
Preheat the oven to 180C fan (200C/400F/Gas 6).
Mix the tahini with the yogurt, garlic, chilli and lemon juice. Season to taste.
Drizzle the pitta bread pieces with oil and place them on a baking tray. Toast in the oven for 12–15 minutes until golden.
Now make the hummus. In a saucepan, warm the chickpeas with the liquid from the tins until they are heated through. Strain, but reserve the cooking liquid. Put half the chickpeas in a blender with the rest of the hummus ingredients and blitz to a smooth paste. Add this to the tahini/yogurt mixture.
Place the toasted bread in a serving bowl, adding 120ml (4fl oz) of the reserved chickpea cooking liquid and three-quarters of the remaining chickpeas. Pour over one-quarter of the hummus and yogurt mix and combine it all together until all of the bread is covered and coated. Top with the rest of the yogurt and hummus mix.
Decorate with chopped parsley, paprika, pomegranate seeds, the remaining chickpeas and the toasted pine nuts. Drizzle with olive oil, garnish with mint and serve.
Additional Information
Tips: Make sure you have all the ingredients prepared and ready before you begin as this dish needs to be put together quite quickly once the bread and liquid have been combined.
I use tinned chickpeas to make this dish faster to prepare as it has so many components to it, but you can use dried chickpeas if preferred.
Other recipes you might like