Print me
Introduction
A fairly forgotten treat, these teatime buns are fragrant with orange and caraway and delicious any time. Don't be scared of the caraway in this recipe; it really does work.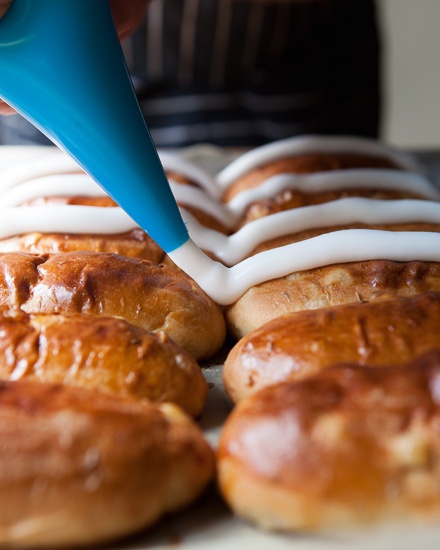 For the buns:
300 grams strong white bread flour (plus extra for dusting)
1 teaspoon fine sea salt
35 grams caster sugar
50 grams chopped candied peel
zest of 1 orange
½ teaspoon caraway seeds
150 - 180 grams water
10 grams fresh yeast (crumbled)
75 grams softened unsalted butter
1 egg (beaten, to glaze)
For the icing:
40 millilitres liquid glucose
40 millilitres lemon juice
300 grams icing sugar
Method
Iced London Buns is a guest recipe by Justin Gellatly so we are not able to answer questions regarding this recipe
For the buns:
Line a baking tray with baking paper. Put the flour, salt, sugar, peel, orange zest and caraway seeds into the bowl of an electric mixer. Put 150g of water into a bowl or jug and add the yeast. When it has dissolved, add to the flour, then mix on a medium speed for 8 minutes, or until the mixture starts coming away from the sides. Turn off the mixer and let the dough rest for 5 minutes.
Start the mixer up again on a medium speed and slowly add the butter a teaspoon at a time, only adding the next piece once the previous butter is completely incorporated. Once all the butter is in, mix on high speed for 1 minute. Cover the bowl with cling.lm and let it rest for 10 minutes. Divide the dough into 12 pieces and roll them into fat sausage shapes about 8-9cm in length. Place them on the prepared baking tray, cover lightly, and leave for about 1/2; hours, until doubled in size.
Preheat the oven to 200°C/Fan 180°C/gas 6. Eggwash the buns and bake for about 10-12 minutes, or until golden brown.
For the icing:
To make the icing, put the glucose and lemon juice into a heatproof bowl and place over a pan of simmering water to gently melt the glucose. Sift in the icing sugar and whisk together until smooth, removing the bowl when the icing starts to warm up. Pour the icing into a piping bag and leave for a few minutes.
Once the buns are cold, pipe the icing on top, along the centre of each bun.
Other recipes you might like