Print me
Introduction
I didn't know about slaw until I moved to the U.S. - I hadn't even heard the word. But I soon found out about the crunch it adds to a plate and the tang that reminds me of the pickles that I've loved since I was a boy. So I've started to play with slaw. Here I shred Brussels sprouts - they're little cabbages, aren't they? - cook them in bacon fat and butter to give them layers of flavor, sweeten them up with apples, and add zing with vinegar and ginger. It's a gateway dish. Serve this to people who say they don't like Brussels sprouts and you'll find them wanting more and more and more.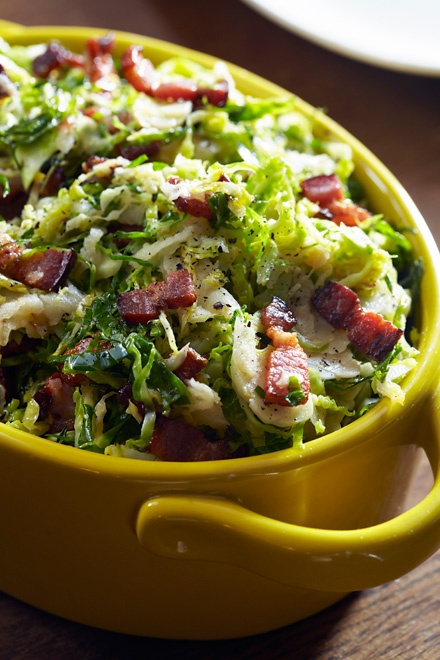 ½ pound thick-cut bacon (cut into 1/2 inch pieces)
4 tablespoons unsalted butter
2 pounds brussels sprouts (thinly sliced in a food processor)
kosher salt
freshly ground pepper
2 granny smith apples (peeled, cored, coarsely grated and squeezed out)
1 tablespoon apple cider vinegar
1 tablespoon minced peeled fresh gingerroot
1 teaspoon fresh thyme leaves
Please note that nigella.com is not able to accept responsibility for any substitutions that Ocado may need to make as a result of stock availability or otherwise. For any queries, head to ocado.com/customercare.
Feel free to use the "swap" feature and adjust brands and quantities as needed.
Method
Hot Brussels Sprouts Slaw is a guest recipe by Marcus Samuelsson so we are not able to answer questions regarding this recipe
Cook the bacon in a large skillet over medium-high heat, stirring occasionally, until crisp, about 6 minutes. Drain on paper towels. Pour the bacon fat into a bowl.
Turn the heat under the skillet up to high and add 2 tablespoons of the butter and 2 tablespoons of the bacon fat. When the butter stops sizzling, add half the Brussels sprouts. Cook, stirring often, until softened - with some of the sprouts browned and others still bright green - about 8 minutes. Season with salt and pepper and scrape out into a bowl. Cook the rest of the Brussels sprouts in the remaining 2 tablespoons butter and 2 tablespoons bacon fat. Return the first batch of sprouts to the skillet, add the apples, vinegar, ginger, and thyme, and cook, stirring, until the apples are heated through, 1 to 2 minutes.
Pile the slaw onto a platter, scatter the bacon on top, and serve.
Other recipes you might like