Print me
Introduction
I have to try hard to contain my excitement when someone gives me a recipe for something I've just eaten and fallen in love with. This is my cousin Disha's recipe for pav bhaji, which is a famous and much-loved street food in Mumbai. It's a mash of spicy vegetables slathered in butter, best mopped up with a hot "pav" - a bread roll - while the juices escape down your chin.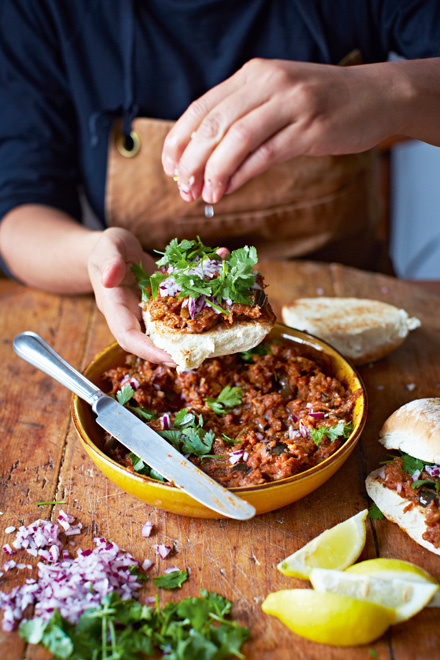 For the pav bhaji:
200 grams maris piper potatoes
40 grams unsalted butter (plus extra knob to finish)
2 large onions (chopped)
4 cloves of garlic (crushed)
4 centimetres ginger (peeled and grated)
2 medium aubergines - 500g in total (cut into 1cm cubes)
400 grams tomato passata
1 tablespoon tomato puree
2 teaspoons ground cumin
2 teaspoons ground coriander
1 teaspoon garam masala
¼ teaspoon ground turmeric (optional)
½ teaspoon amchur (dried mango powder)
1½ teaspoons salt
¾ teaspoon chilli powder
½ head of cauliflower - around 250g (broken into 2cm cubes)
To serve:
8 - 12 soft white bread rolls
butter
1 red onion (finely chopped)
handful of fresh coriander
2 wedges of lemons (to squeeze over)
Method
Pav Bhaji is a guest recipe by Meera Sodha so we are not able to answer questions regarding this recipe
Peel and chop the potatoes into equal-size chunks, then boil them for around 10 minutes, or until tender. Drain, mash, then set to one side.
Put the butter into a wide-bottomed, lidded frying pan on a medium heat. When it starts to foam, add the onions and cook for 8 to 10 minutes, until golden. Add the garlic and ginger, and stir well. After a minute, add the aubergines to the pan and cover. Stir them every now and then until they're soft - this should take around 10 minutes. Add the passata and tomato puree, and cook for around 5 to 7 minutes until it is a thick mash, rich and dark red.
Add the cumin, coriander, garam masala and turmeric, the amchur if using and the salt. Stir and taste, adding the chilli powder if you'd like more heat. Finally, add the mashed potato and cauliflower. Stir to mix and put the lid on, leaving it to cook for around 10 minutes, or until soft.
Taste and adjust any seasoning. Transfer to a bowl and use a potato masher or a fork to mash it. The consistency should be somewhere between mashed potato and thick pasta sauce - you can add some hot water to loosen the bhaji if need be. For a final flourish, add a generous knob of butter and stir it in.
Serve with halved and toasted bread rolls, generously spread with butter. Put a layer of pav bhaji in the middle of each roll, and top with a sprinkling of red onion, coriander and a squeeze of lemon juice.
Other recipes you might like