Print me
Introduction
It's important to use romano (long) peppers here as the skins aren't as tough as on bell peppers. If you can't get hold of them, use bell peppers, but after roasting, add them to a bowl, immediately cover with clingfilm and allow to cool. You'll then be able to easily peel off the tough charred skins.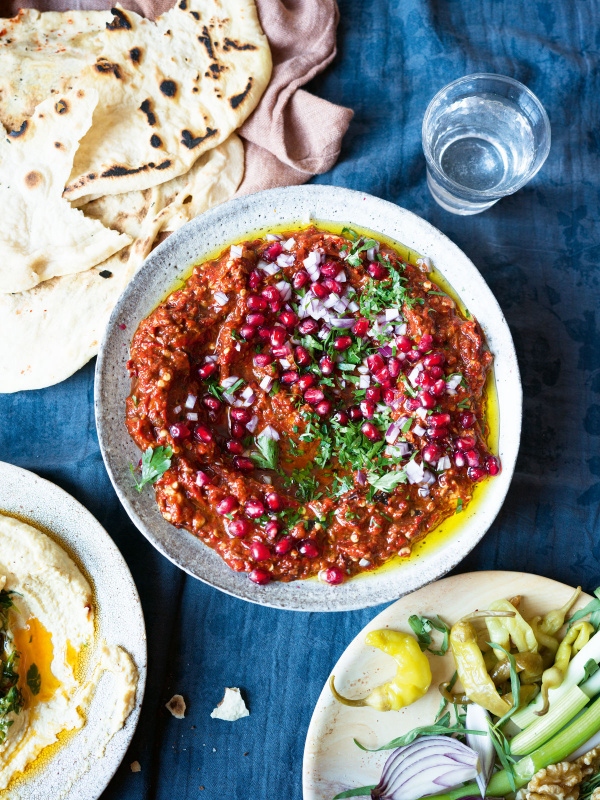 TO MAKE
5 red romano peppers
2 red chillies
75 grams walnuts
4 tablespoons red pepper paste
1 teaspoon ground coriander
1 teaspoon ground cumin
½ teaspoon salt
TO SERVE
2 tablespoons pomegranate molasses
1 small bunch of fresh flatleaf parsley (finely chopped)
½ red onion (finely chopped)
handful of pomegranate seeds
extra virgin olive oil (to drizzle)
Please note that nigella.com is not able to accept responsibility for any substitutions that Ocado may need to make as a result of stock availability or otherwise. For any queries, head to ocado.com/customercare.
Feel free to use the "swap" feature and adjust brands and quantities as needed.
Method
Muhammara is a guest recipe by Imad Alarnab so we are not able to answer questions regarding this recipe
Preheat the oven to 220°C/Fan 200°C/gas 7. Place the peppers and chillies on a large baking tray in a single layer and roast for 20–25 minutes, turning halfway through, until the skin is blackened and charred on both sides. Allow to cool slightly then pull off the stems from each pepper and chilli.
Spread the walnuts out on another baking tray and toast in the oven for 5 minutes. Remove and allow to cool.
Add the chillies, red pepper paste and spices to a food processor and blitz to a paste. Now add the roasted peppers, walnuts and salt and pulse carefully until you have a rough, chunky consistency. You don't want a smooth paste here.
Spoon into a bowl or onto a plate and drizzle over the pomegranate molasses. Garnish with parsley, red onion, pomegranate seeds and a drizzle of olive oil.
Other recipes you might like