Print me
Introduction
This has to be one of the most nostalgic breakfast recipes - it takes me right back. This was my mum's thrifty way of using up bread that was very close to its sell-by date, with ingredients she always had at home, like onions, chillies and coriander. Bread never lasts long enough in our house to go out of date, but I make this recipe just for the trip down memory lane. When you toast the bread in the pan long enough for it to get crispy, the onions soften and the cooked-out chillies will mellow. Finally add the egg to weld it all together, with a dash of fresh coriander. It makes for the heartiest breakfast, and we still eat it the way I did twenty years ago - all together in a circle on the floor, with six forks.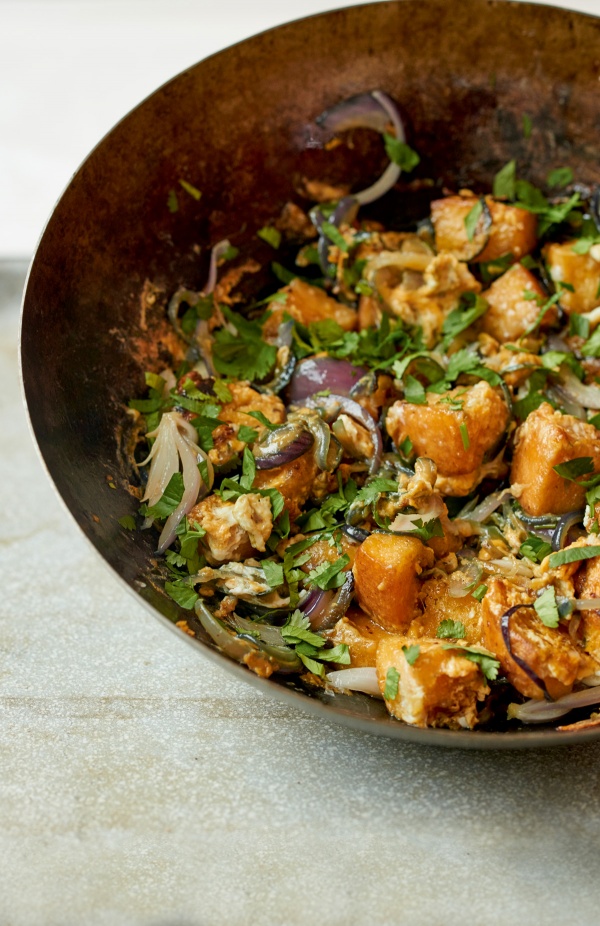 3 tablespoons sunflower oil
1 tablespoon salted butter
1 medium red onion (sliced)
1 small chilli (deseeded and chopped finely) - you can leave it out if you don't want to add it
½ teaspoon fine sea salt
1 teaspoon ground black pepper
5 slices bread (cut into 2cm cubes)
3 large eggs (whisked lightly)
3 tablespoons chopped fresh coriander
Please note that nigella.com is not able to accept responsibility for any substitutions that Ocado may need to make as a result of stock availability or otherwise. For any queries, head to ocado.com/customercare.
Feel free to use the "swap" feature and adjust brands and quantities as needed.
Method
One-Wok Red Onion and Bread Stir-Fry is a guest recipe by Nadiya Hussain so we are not able to answer questions regarding this recipe
Heat a wok over a medium heat. Put the oil and butter into the hot wok.
Add the onions and chilli, lower the heat and cook gently for about 10 minutes, until softened. Season with salt and pepper.
Now add the cubes of bread, and toss through the onions to mix well. The bread will become lightly toasted.
Pour the eggs all over the bread. Give everything a brief stir, then cover with a lid and leave over a low heat for 2 minutes. This will allow the egg to cook through.
Take off the lid and stir the mixture to break it up.
Take off the heat, sprinkle over the coriander and serve.
Additional Information
This recipe tastes even nicer the following day so save up that stale bread and double the quantities to make plenty of leftovers.
Other recipes you might like