Print me
Introduction
This is an extremely simple dish, taught to me by an Armenian friend, and one of the best ways to turn chicken leftovers into something mind-blowing, although it would be totally worth poaching a whole chicken just to make this. Herbs, seasoned yogurt, barberries, toasted sunflower seeds, chicken, crispy top – I can't think of anything better to eat on a Monday night. If you live alone, or like me with a small child, you can make a mini version using a smaller baking tray.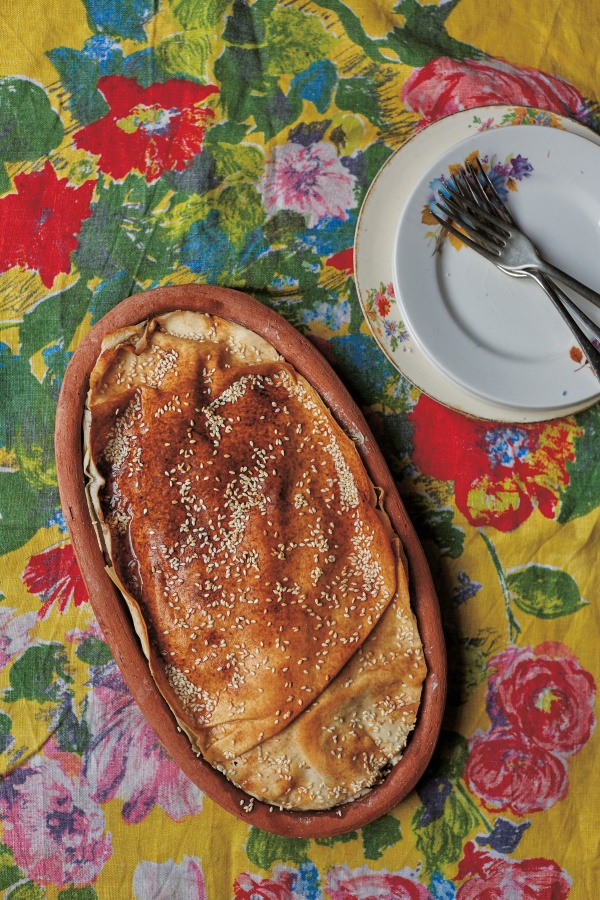 100 grams natural yogurt
2 cloves garlic (grated)
pinch of saffron strands (optional)
pinch of cayenne pepper
1 tablespoon dried barberries or sultanas
200 grams poached chicken meat (torn into chunks)
1 tablespoon chopped spring onion
1 tablespoon chopped fresh coriander
1 tablespoon chopped fresh dill
1 tablespoon chopped fresh tarragon
50 grams unsalted butter (melted)
1 large piece of Armenian or Persian lavash or any other thin flatbread
1 tablespoon sunflower seeds or sesame, pumpkin or linseed
Maldon sea salt flakes
Please note that nigella.com is not able to accept responsibility for any substitutions that Ocado may need to make as a result of stock availability or otherwise. For any queries, head to ocado.com/customercare.
Feel free to use the "swap" feature and adjust brands and quantities as needed.
Method
Lavash, Chicken and Herb Pie with Barberries is a guest recipe by Olia Hercules so we are not able to answer questions regarding this recipe
Mix the yogurt, garlic, saffron, cayenne and barberries together, then add the chicken, spring onions and herbs. Season well with salt and set aside.
Preheat the oven to 180°C (350°F), Gas Mark 4. Grease a shallow 15 x 20cm (6 x 8 inch) baking dish with some of the melted butter.
Place one layer of lavash in the dish, brush with melted butter then spread over the filling. Cover with another layer of lavash (tear it to fit). Brush with melted butter and sprinkle over the seeds.
Bake for 15 minutes until heated through, the top is golden and the seeds are toasted.
Additional Information
This is a perfect way in which to use up leftover cooked chicken. But it is also a great way to use up stale flatbreads; because you cover them with butter and the filling is so moist, the flatbreads revive beautifully in the oven.
Other recipes you might like