Print me
Introduction
I tried this recipe out and I like it.It's easy and it isn't fussy.Side dishes for this can be a nice fresh salad, veggies or potato wedges.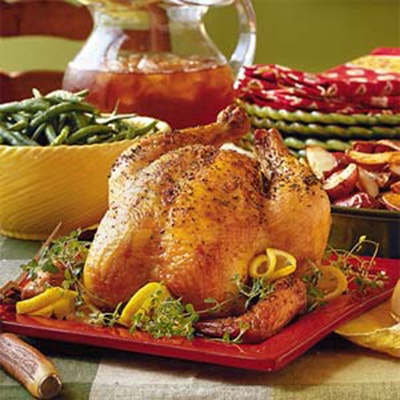 1 large chicken (about 1.5 - 2kg)
3 large lemons
fresh lemon thyme
fresh parsley
spring onion
herbs
1 pinch of salt
1 pinch of pepper
olive oil (to glaze)
250 millilitres water
Method
Easy Lemon Roast Chicken is a community recipe submitted by ChrisRSA and has not been tested by Nigella.com so we are not able to answer questions regarding this recipe.
Preheat your oven to 200C.
Line a roasting dish.
Take out the giblets from the chicken and rinse the chicken under cold water.
Cut the lemon into wedges.
Chop up all the fresh herbs.
Place the lemon and the herbs inside the chicken.
Tie the chicken's legs together.
Lastly paint some olive oil over the outside of the chicken then sprinkle over the lemon and herb spices and salt and pepper.
Add about 1 cup of water in the roasting dish this keeps the chicken moist.
Cook for 1-1/2 to 2 hours until clear moisture comes out of the chicken when you cut it.
Cook the chicken uncovered or in an oven bag. Good Luck.
Additional Information
Goes very well with potato salad, green beans, grilled sweet potatoes, baby roast potatoes.
Other recipes you might like