Print me
Introduction
With its crisp cake-like crust and super-soft centre, this cake truly is the sweetest of both worlds. Serve it for dessert or afternoon tea.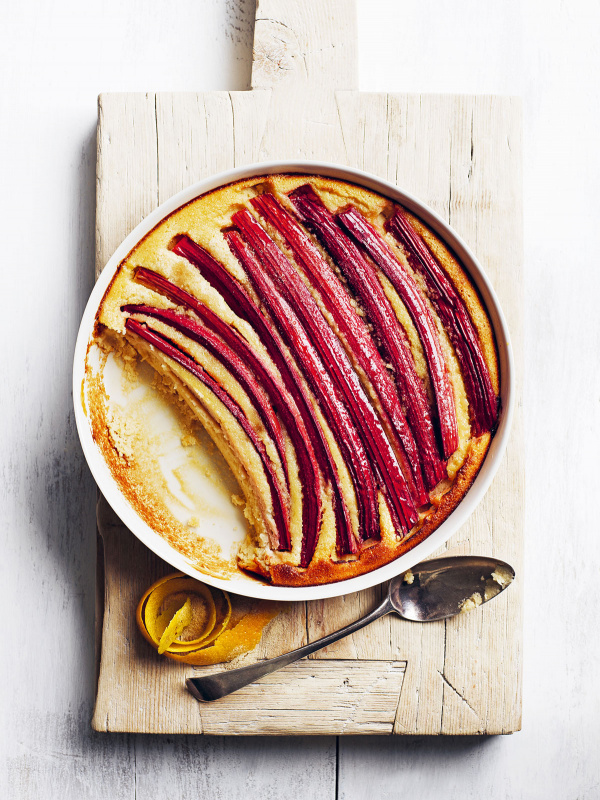 4 eggs
1 teaspoon vanilla extract
1 teaspoon rosewater
1½ cups (360ml) buttermilk
1 tablespoon orange rind (finely grated)
2½ cups (300g) almond meal
2 tablespoons cornstarch (cornstarch)
¾ cup (165g) raw superfine sugar (plus extra)
5 stalks rhubarb (trimmed and halved lengthways)
1 tablespoon pure maple syrup (or light agave syrup)
Method
Rhubarb Almond Pudding Cake is a guest recipe by Donna Hay so we are not able to answer questions regarding this recipe
Preheat oven to 180°C (350°F).
Place the eggs, vanilla, rosewater, buttermilk and orange rind into a jug and whisk to combine.
Place the almond meal, cornstarch and sugar into a bowl and mix to combine.
Pour the buttermilk mixture into the almond mixture and mix to combine.
Pour mixture into a deep 25cm (10 inch) 6-cup (1.5 litre) capacity round baking dish.
Top the almond mixture with the rhubarb and brush well with agave syrup. Sprinkle with extra sugar.
Bake for 40 minutes or until the pudding cake is just firm and the rhubarb is soft.
Additional Information
Swap rhubarb for berries or even peaches or nectarines if in season.
Other recipes you might like