Print me
Introduction
Momos were a huge part of my life growing up in Bengal, as they were affordable and tasty. I still love making them today, and I eat them until I can't eat any more!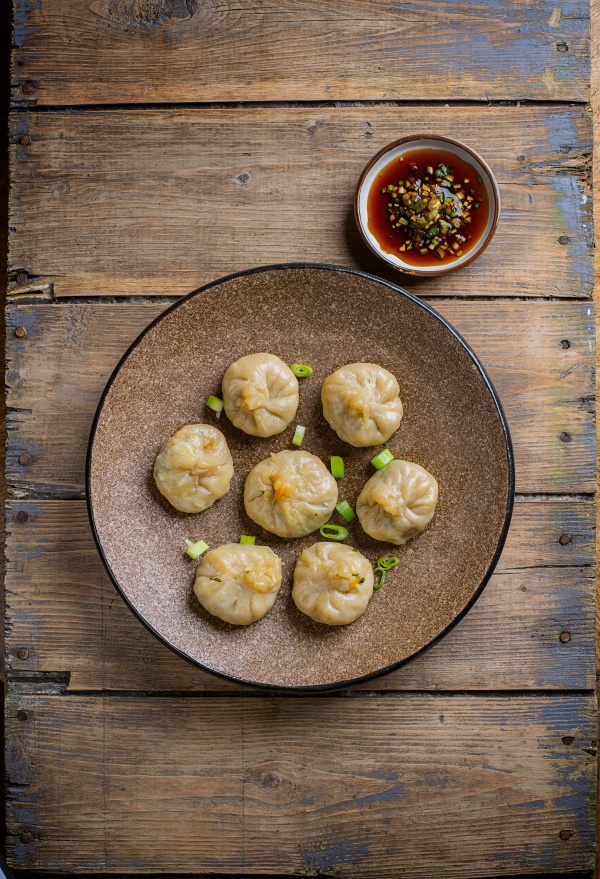 For the dough:
200 grams plain flour (plus extra for dusting)
½ teaspoon salt
5 teaspoons sunflower oil
For the filling:
40 grams cabbages (finely shredded)
1 large carrot (peeled and grated)
3 cloves garlic (chopped)
1 teaspoon grated fresh ginger
1 small white onion (chopped)
2 green chillies - seeds in (chopped)
2 teaspoons chopped fresh coriander
1 teaspoon salt
For the dipping sauce:
3 tablespoons dark soy sauce
1 green chilli - seeds in (chopped)
2 spring onions (finely chopped) plus extra to garnish
2 teaspoons grated fresh ginger
1 teaspoon sugar
Please note that nigella.com is not able to accept responsibility for any substitutions that Ocado may need to make as a result of stock availability or otherwise. For any queries, head to ocado.com/customercare.
Feel free to use the "swap" feature and adjust brands and quantities as needed.
Method
Momos - Cabbage and Carrot Dumplings is a guest recipe by Romy Gill so we are not able to answer questions regarding this recipe
First make the dough. Sift the flour and salt into a mixing bowl, then add the oil and mix well. Slowly add 120ml cold water to the flour mix and knead the dough until it is flexible. Cover the bowl with a cloth and leave it to rest for 1 hour at room temperature.
While the dough is resting, make the filling. Add all the ingredients to a mixing bowl and stir well to combine.
Divide the dough into 20 equal-sized balls weighing around 12g each. Dust a work surface with flour and roll the balls into thin circles, one at a time. Place about 2 teaspoons of filling into the centre of the circle, then using your thumb and forefinger, pinch together the edges of the dough to make a round shape. Pinch all around the shape to seal the parcel.
Next, make the sauce. Combine all the ingredients together with 30ml cold water and mix well.
When you're ready to eat, fill a steamer pan with water, cover the base of the steamer with baking parchment and pierce some holes in it.
Working in batches, place the momos on the baking parchment and steam for 8–10 minutes – they should look transparent and not feel sticky when fully cooked.
Serve the momos hot with a sprinkling of chopped spring onion and the sauce for dipping.
Other recipes you might like