Print me
Introduction
This variation on a classic dish from Rajasthan is made with relatively few ingredients by Indian standards. Pounded chillies are blended with yoghurt and cooked with caramelised onions and shedloads of garlic in ghee. Whole black cardamom is the lead spice here and its naturally smoky flavour is a good match for the robustly flavoured masala and softened potatoes.
This is not a dish for the faint-hearted. I've opted for Kashmiri chillies (milder than the traditional mathania used in abundance throughout Rajasthan), which also bring a lovely reddish hue to the finished dish. Don't be too finicky about removing every seed - a couple of stray ones are good for emboldening the masala. Serve these potatoes with a crisp salad, cooling yoghurt and chapatis.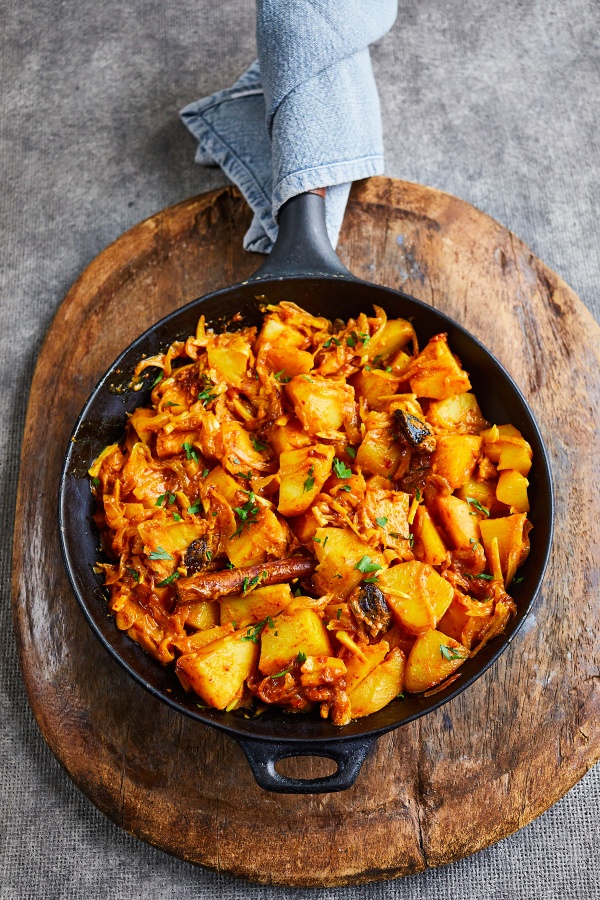 8 dried Kashmiri chillies
200 grams full-fat Greek yoghurt
¾ teaspoon ground turmeric
2 teaspoons ground roasted coriander seeds
100 grams ghee (clarified butter) or unsalted butter
3 onions (thinly sliced)
3 black cardamon pods (pierced with the point of a knife)
4 Indian bay leaves or 4cm cinnamon stick
1 large bulb of garlic (cloves separated, peeled and shredded)
750 grams floury potatoes such as Maris Piper or King Edward (peeled and cut into 2cm chunks)
Method
Kashmiri Chilli and Cardamom Potatoes is a guest recipe by Roopa Gulati so we are not able to answer questions regarding this recipe
Using scissors, snip the tops off the dried chillies and shake to remove the seeds. Put the chillies in a heatproof bowl and cover with boiling water. Leave to soak for 30 minutes, drain, then blend the rehydrated chillies in a food processor with the yoghurt, turmeric and coriander. (Alternatively, finely chop the drained chillies and mix them with the other ingredients.)
Heat the ghee or butter in a sturdy medium flameproof casserole over a medium heat. Add the onions and cardamom pods and fry for 8-10 minutes, until the onions are golden. Stir in the bay leaves or cinnamon and garlic and cook for a further 5 minutes, until the garlic is softened. Heat the oven to 160°C/140°C fan/gas mark 2-3.
Add the potatoes and yoghurt-and-chilli masala and cook over a medium heat for 3-5 minutes, until almost all the yoghurt has evaporated. Add a splash of water if the mixture looks like catching on the bottom of the pan.
Pour over enough hot water to barely cover the bottom of the casserole, then cover with foil and a tight-fitting lid. Transfer the casserole to the oven for 45 minutes, or until the potatoes are tender and the masala has thickened.
Other recipes you might like