Print me
Introduction
Beetroot and goat's cheese is a well-known pairing (and for good reason), but it's actually the maple syrup (a Life Kitchen key ingredient), chilli and chive dressing that makes these croquettes special. You'll need a goat's cheese with a soft rind and chalky centre for the best results with this recipe.
TASTE AND FLAVOUR FACT:
Maple syrup provides sweetness but also richness and depth of flavour. This is because maple syrup contains significant levels of sotolon, a powerful aroma molecule that at higher concentrations has the scent of fenugreek and curry.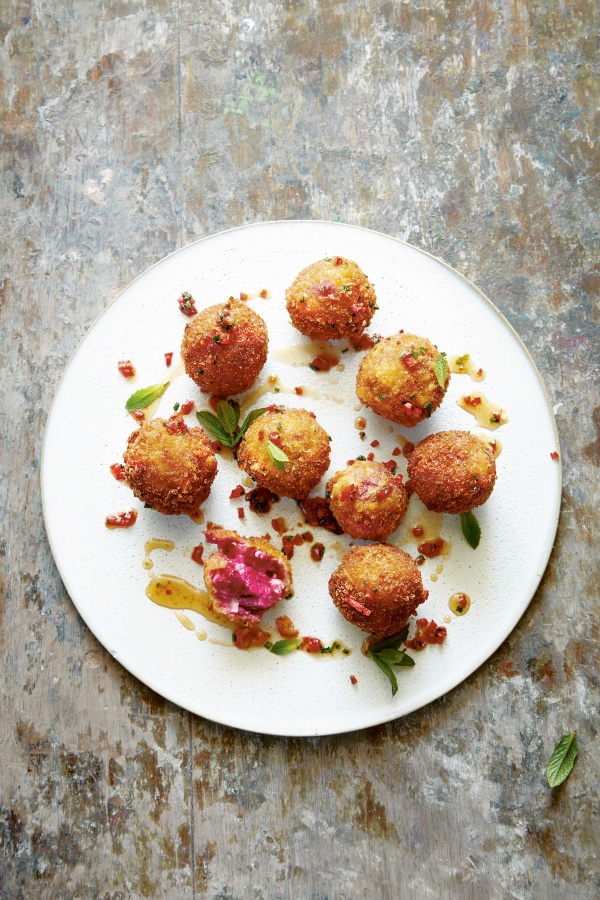 Ingredients
Makes: about 10 croquettes
For the croquettes
150 grams soft goat's cheese
1 whole cooked beetroot (about 75g; vacuum-pakced is best) - diced very small and patted dry with kitchen paper
1 egg beaten with 1 teaspoon milk
50 grams panko breadcrumbs
vegetable oil or rapeseed oil
freshly ground black pepper
a few small mint leaves to serve (optional)
For the dressing
5 tablespoons maple syrup
1 red chilli (finely chopped)
1 small handful of chives (finely chopped)
Method
Goat's Cheese and Beetroot Croquettes is a guest recipe by Ryan Riley so we are not able to answer questions regarding this recipe
Mash the goat's cheese in a bowl using a fork. Add the beetroot and mix well (I like to use my hands) until everything comes together, then season liberally with black pepper. Break off small pieces of the mixture and roll each piece between your palms into a ball about the size of a sprout, and set aside.
Place the egg and milk mixture and the breadcrumbs in separate bowls. Dip the goat's cheese and beetroot balls into the egg and milk mixture, then into the breadcrumbs, turning them to coat fully. Once all the balls are coated, pop them in the freezer for 15 minutes, to firm up.
Meanwhile, mix together all the dressing ingredients in a bowl and set aside.
Place a frying pan on a medium-high heat and add a generous glug of oil. When hot, add the croquettes 5 at a time, turning them until golden all over (about 2 minutes). Pop them aside to drain on kitchen paper while you fry the next batch.
Once all the croquettes are cooked, place them in a serving dish and either pour over the dressing, or serve it alongside for dipping. Scatter the croquettes with a few small mint leaves, if you like.
Other recipes you might like