Print me
Introduction
On our first few days in Colombo at the start of the holidays when we were children, we always wanted to eat all that we couldn't back in England: milk hoppers from that van guy at the Bambalapitya flats, sticky mangoes from Wellawatte market, crunchy fried falafels of shrimp vadai bought at the seaside at the Galle Face.
Our Colombo cousins were deeply, deeply unimpressed at this boring and earnest traditionalism, disappointed that we were so square that we could not bring even stories of burgers or pizza from home. I don't know who we thought we were kidding, but we sort of doubled down on our own hot air, and pretended that we thought the fast food joints that began opening in Colombo in the Nineties – KFC, Pizza Hut and, of course, McDonald's – were gross.
And so it wasn't until my twenties that I walked guiltily into a cool, air-conditioned McDonald's on Galle Road and inhaled that unmistakable whiff of French fries. Behind the smiling staff in hairnets, I eyed up the board and thought: 'Bloody hell. What is this menu?' Alongside the usual cheeseburgers and chicken nuggets was a list of local, Lankanised dishes, just as every regional McDonald's does to curry favour (sorry) with the locals. I ordered every Lankanised dish they had, and up first was a soft breakfast bun with seeni sambol, melted American cheese and a fried egg. It still is, without prejudice, the most delicious McDonald's dish I have tried in any McDonald's anywhere in the world. This recipe is an homage to that original.
Seeni means sugar, because you make the sambol by caramelising shallots or red onions, reducing and stirring until you get a jammy, sticky, molasses colour, adding sugar, cinnamon, tamarind for tanginess and a few other spices as you go. Seeni sambol is one of the big guns of the Sri Lankan sambol repertoire, a kind of magnificent, punchy, fiery shallot jam that you smear onto things, just as you would with a chutney or a salsa. It pairs very well with eggs, as the oozy richness of the yolks enjoy a mouth party with the tart, fragrant sweetness of the sambol – and so Sri Lankans are fond of eating this sambol with egg hoppers, egg rotis or in other egg sandwiches. This recipe makes enough to have sambol leftovers that you can store in a jar in the fridge for up to a month, so I wish you many fun adventures with seeni sambol. For this sandwich, any white bread will do (I use a potato sourdough from the Dusty Knuckle bakery in east London because my flatmate Sarah is mad for it and always has some in the house) and I think melted, strong Cheddar works better than Kraft, but see what you think when you make it yourself.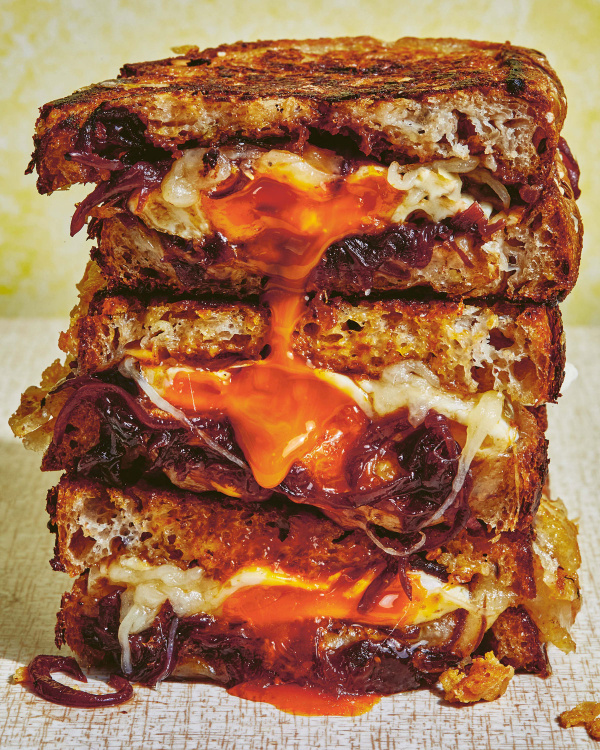 For the seeni sambol
2½ golf ball-sized pieces of tamarind block (soaked in 125ml warm water for 10 minutes)
1½ tablespoons coconut or vegetable oil
20 fresh curry leaves
2 x 5 centimetres pieces of cinnamon sticks
10 whole cardamom pods (lightly bashed in a pestle and mortar)
6 cloves
4 fresh green chillies (sliced into thirds)
1 teaspoon salt (or to taste)
6 red onions (peeled and finely sliced)
1 tablespoon apple cider vinegar
4 tablespoons granulated or caster sugar
For the sandwich
butter for spreading the bread (plus 3 knobs)
4 slices of white bread (e.g. sourdough or white bloomer)
120 grams grated Cheddar cheese or Gruyère
2 large organic or free-range eggs
salt
Please note that nigella.com is not able to accept responsibility for any substitutions that Ocado may need to make as a result of stock availability or otherwise. For any queries, head to ocado.com/customercare.
Feel free to use the "swap" feature and adjust brands and quantities as needed.
Method
Seeni Sambol, Egg and Cheese Sandwich is a guest recipe by Cynthia Shanmugalingam so we are not able to answer questions regarding this recipe
For the seeni sambol, squeeze the tamarind with your fingers, then discard the seeds and skin, leaving behind the pulpy water.
Heat the oil in a large saucepan over a medium heat. Once hot, add the curry leaves, cinnamon, cardamom, cloves, chillies and salt. Cook for 2–3 minutes, stirring regularly, being careful not to burn the spices. Lower the heat to medium, add the onions and cover with a lid. Cook for 5 minutes, until they are soft. Take the lid off, reduce the heat to low, and cook for 25 minutes, stirring occasionally, until deep golden brown. If the onions look like they might dry out or burn, add a tablespoon or two of water at a time, and scrape up any browned bits that are stuck to the bottom of the pan. Once the onions are ready, deglaze the pan by adding the vinegar and scraping any browned bits that are stuck to the bottom, then cook for about 1 minute, until the liquid has evaporated. Add the tamarind water and sugar, and cook for a further 3–5 minutes, stirring regularly, until the mixture is dark brown. Remove from the heat, spoon into a clean jar with the lid off and let cool completely.
Butter your slices of white bread on one side. On a plate, place a slice of bread buttered-side down. Spread with a tablespoon schmear of seeni sambol, then top with some grated cheese and another slice of bread, buttered-side up. Repeat to make a second sandwich.
Set a large heavy-based frying pan over a low-medium heat and add a knob of butter. It should melt gently; if it sputters, turn the heat down a little. Place both sandwiches directly on the melted butter. Squish them down with a metal slice or a heavy pan, and fry for 3–4 minutes until golden brown, checking halfway through to make sure they are not burning. Once golden, take them out of the pan, add a second knob of butter and repeat the process on the other side of the sandwiches. Rest the sandwiches on a plate.
Add the final knob of butter to the pan. When melted, crack the eggs into the pan with a little distance between them so they don't bleed into each other. Season with a pinch of salt, and cook for about 2 minutes until the whites are nearly set on top and the yolks are still runny. Using a spatula, gently flip over the eggs one at a time, season with more salt, and let cook another 5–10 seconds. Transfer to a plate.
Take each toasted sandwich and split the two slices apart, add one egg and put the slices back together. Eat it piping hot.
Other recipes you might like