Print me
Introduction
Tagliolini is essentially very finely cut tagliatelle – about as thick as a tapestry needle. It is a delicate pasta that complements the simple, fresh flavours of this sauce particularly well. Because it is so fine, take extra care with the cooking time; more often than not I find that it's done before I know it. Use fresh egg pasta, if you can, in which case you will need about 600g as it weighs heavier than dried.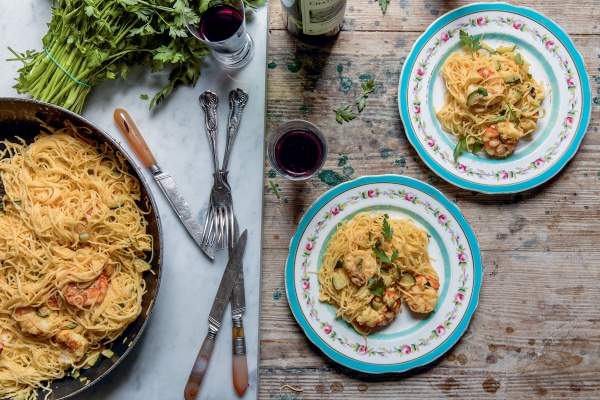 ½ teaspoon saffron strands
2 tablespoons olive oil
1 small onion (finely chopped)
2 courgettes (roughly chopped)
300 grams shelled and de-veined raw king prawns
50 millilitres white wine
100 millilitres single cream
400 grams tagliolini
sea salt
Method
Tagliolini with Prawns, Courgettes and Saffron is a guest recipe by Skye McAlpine so we are not able to answer questions regarding this recipe
Using a pestle and mortar, grind the saffron strands to a fine powder with a small pinch of salt. Set to one side.
Heat the olive oil in a large frying pan over a medium heat, then add the onion and a generous pinch of salt. Cook, stirring, over a low-medium heat for 3–5 minutes, until the onion starts to become translucent. Add the courgettes and cook, stirring, for 3–5 minutes, until they begin to colour. Add the prawns and white wine and stir for 2–3 minutes, until the wine has largely evaporated and the prawns have started to turn pink. When all the wine has evaporated, stir in the ground saffron, followed by the cream. Remove from the heat and season with a little salt to taste.
Meanwhile, cook the tagliolini in a large saucepan of generously salted boiling water until al dente. Just before you drain the pasta, scoop out half a cup of the cooking water and set to one side. Drain the pasta in a colander, toss it back in the saucepan and add the sauce and the reserved cooking water. Toss well and serve immediately while still warm with a few parsley leaves scattered on top, if preferred.
Other recipes you might like