Print me
Introduction
Za'atar can cause a little confusion. It's the term for the Middle Eastern spice mix made from a heady combination of herbs, spices and seeds; however, it's also the name of a herb itself. As with so much of Middle Eastern cooking, there any many regional variations. Its uses are limitless: it can be sprinkled over food on its own, stirred into dips or through rice, or massaged over chicken or meat as a dry rub. In Lebanon it's strongly associated with the breakfast table, where it's used in both a sweet and a savoury context.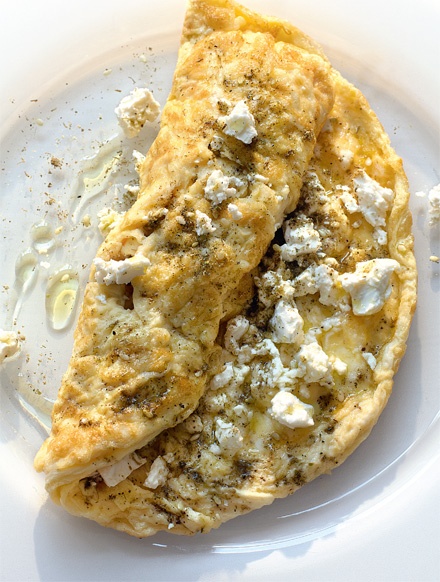 2 large eggs
1 teaspoon zaatar
1 tablespoon olive oil (plus extra to serve)
25 grams feta cheese or firm goat's cheese (crumbled)
salt
freshly ground black pepper
Method
Feta And Za'Atar Omelette is a guest recipe by Tony Kitous and dan Lepard so we are not able to answer questions regarding this recipe
Beat the eggs in a bowl and season well with salt and pepper and ½ teaspoon of the za'atar. Heat the oil in a heavy-based frying pan, no bigger than 17-18cm in diameter.
Pour in the beaten eggs and use a spatula to swirl the mixture around in the pan, drawing in parts of the omelette which have cooked and allowing the uncooked egg to run into the gaps. Continue to do this until all the egg is just set. Scatter the cheese over the omelette and sprinkle the remaining za'atar over the top.
Drizzle with extra oil, if you like, before serving.
Other recipes you might like