Print me
Introduction
One day I was researching shortcrust pastry recipes and I asked my good friend and author Carolyn Steel - whose family had been hoteliers - if she had a great version. Her brother Brian had the recipe from the hotel, so I have him to thank for this truly excellent pastry. It is now part of this very classic Danish cake recipe with custard, which we call linse.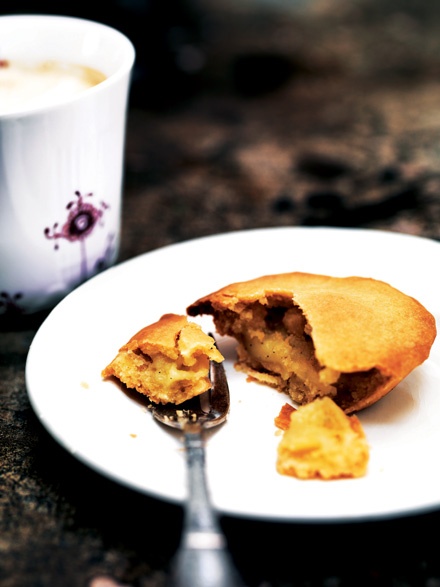 For the pastry:
110 grams icing sugar
340 grams plain flour (plus more to dust)
pinch of salt
225 grams butter (chopped)
1 egg (lightly beaten)
For the custard:
1 vanilla pod
300 millilitres single cream
3 egg yolks
4 tablespoons caster sugar
1 tablespoon cornflour
Method
Danish Custard Pies is a guest recipe by Trine Hahnemann so we are not able to answer questions regarding this recipe
Mix the icing sugar, flour and salt, then mix in the butter, either pulse-blending in a food processor or rubbing it in with your fingers, until the mixture has the consistency of crumbs. Add the egg and mix the dough until firm and smooth. Wrap in cling film and let it rest in the refrigerator for one hour.
Meanwhile, make the custard. Split the vanilla pod lengthways. Heat the cream and vanilla pod in a saucepan until steaming hot, then turn off the heat. Whisk the egg yolks, sugar and cornflour together until fluffy and pale yellow. Pour a little of the hot cream into the egg mixture, then pour all the egg mixture into the saucepan. Set over a low heat and whisk until the custard starts to thicken. Take care not to boil the mixture and whisk continuously to avoid burning. Leave to cool completely.
Preheat the oven to 160℃/325°F/gas mark 3.
Take the pastry out of the refrigerator and roll it out on a floured work surface to 5-8mm thick. Cut out rounds with a 7cm cookie cutter and place them in a 12-hole fairy cake tin. Spoon in the custard. Roll out the remaining pastry and, with the same cookie cutter, cut out the lids. Place on top and press lightly around the edges. Bake for about 25 minutes or until golden brown. Leave to cool before serving. These will keep in an airtight container for four or five days.
Other recipes you might like