Print me
Introduction
Not only rich with its cuisine, Latvia hosts many fascinating pagan traditions, particularly around Christmas. Such as a yuletide log being lumbered through Old Riga, followed by dancing and burning it on a huge bonfire, signifying ridding of negatives. In the houses children adorned by animal masks, prance around, again to ward off evil. I call this celebration cake, as it derived from sampling both traditional Latvian Christmas yellow bread and Birthday cake (Kringel). Due to ginger cookies being a big Xmas hit, I had to add a touch...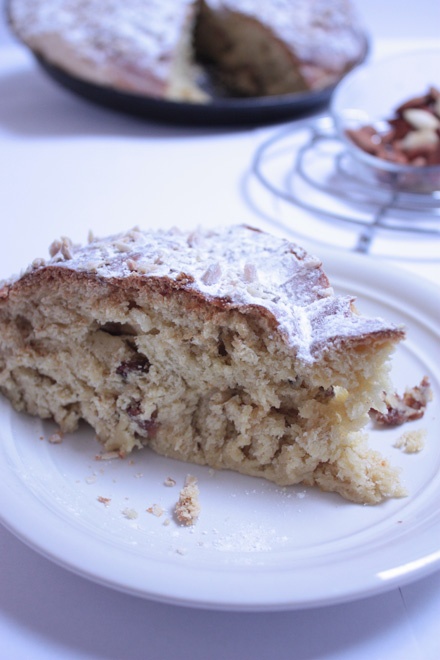 For the cake
14 grams dried yeast
400 millilitres milk
75 grams butter
75 grams caster sugar
1 pinch of salt
80 grams sultanas
4 saffron strands
2 eggs
Zest of 2 lemons
675 grams plain flour
1 teaspoon cardamom powder
1 teaspoon ground ginger
For the glaze
2 egg yolks (beaten)
50 grams blanched almonds (crushed)
icing sugar
Please note that nigella.com is not able to accept responsibility for any substitutions that Ocado may need to make as a result of stock availability or otherwise. For any queries, head to ocado.com/customercare.
Feel free to use the "swap" feature and adjust brands and quantities as needed.
Method
Latvia Celebration Cake is a guest recipe by Yasemen Kaner-White so we are not able to answer questions regarding this recipe
Dissolve the yeast in a bowl in half the milk. Set aside for 20 minutes, then add the remaining ingredients to make a dough. Cover with clingfilm, pop into the fridge overnight.
The next day, divide the dough into three long strands of equal size, for plaiting. To plait the dough, pinch one end of the three strands together with your fingers, plait them and pinch at the other end to seal. Now connect the two pinched ends, to produce a plated circle.
Leave for an hour, after 45 minutes, preheat the oven to 190°C/375°F/Gas 5.
After an hour, the plait should have increased in bulk. Place it on a baking tray, brush with the egg yolks, sprinkle with the almonds. Bake for half an hour, until golden.
Dredge with icing sugar, slice and serve.
Other recipes you might like