Print me
Introduction
I spotted a bag of gingersnaps the other day and I was tempted to check-out with them. Why not? They're good and someone has already done the work to make them edible. My mind swerved back to reality, I took another look at the bag of gingersnaps and thought Homemade is way better and my house will be filled with the intoxicating aroma of warm gingersnaps. Done and done, I exited the market sans gingersnaps. With the perfect recipe in-mind, I was off to preheat the oven!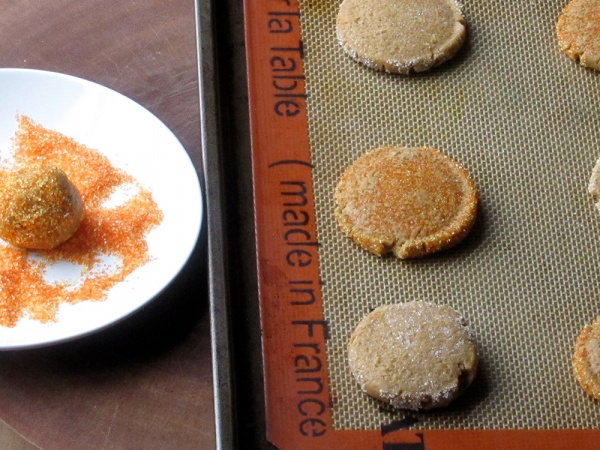 ½ teaspoon sea salt
1½ teaspoons cinnamon
2 teaspoons ground ginger
½ teaspoon ground cloves
1 cup granulated sugar (for rolling dough balls before baking.)
¾ cup unsalted butter (at room temperature)
½ cup brown sugar
½ cup evaporated cane juice sugar
¼ cup unsulfured molasses
1 large egg
½ teaspoon pure vanilla extract
2 cups wholewheat all-purpose flour
½ teaspoon baking soda
Please note that nigella.com is not able to accept responsibility for any substitutions that Ocado may need to make as a result of stock availability or otherwise. For any queries, head to ocado.com/customercare.
Feel free to use the "swap" feature and adjust brands and quantities as needed.
Method
Gingersnaps is a community recipe submitted by allisonbakes and has not been tested by Nigella.com so we are not able to answer questions regarding this recipe.
With a hand mixer or stand mixer beat the two sugars and butter in a large bowl. Beat until light and fluffy. Add molasses, egg and vanilla extract until completely mixed in.
In a separate bowl, mix the flour, baking soda, sea salt and spices. Add the flour mixture to the butter mixture until well incorporated. Cover and chill the gingersnap batter in the fridge for at least 30 minutes.
Preheat oven to 350 degrees. Line a baking sheet with parchment paper or spray with non-stick cooking spray.
Place the granulated sugar in a bowl. Scoop out a tablespoon of gingersnap dough and roll into a ball. Place in the bowl of granulated sugar and roll it around so it's entirely covered in sugar. Place on a baking sheet. Using the bottom of a glass cup, flatten the dough ball into a disc. Repeat until the baking sheet is full.
Bake for 12 to 15 minutes. Cool on a wire rack. Enjoy with cold milk, hot tea or coffee! Gingersnap nirvana!
Other recipes you might like