Print me
Introduction
I bake this in spring when our lemon tree is laden with fruit and I am fighting to find ways to use them.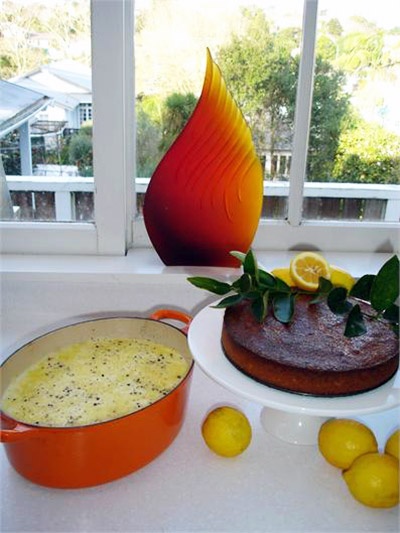 For the Cake
9 ounces softened butter
2 finely grated lemons (rind of)
1 cup superfine sugar
3 separated eggs
¼ cup lemon juice
5 ounces almond meal
1 cup polenta (fine)
For the Syrup
¼ cup lemon juice
¼ cup sugar
Method
Tangy Lemon Polenta Cake is a community recipe submitted by Angeldrawers and has not been tested by Nigella.com so we are not able to answer questions regarding this recipe.
Preheat oven to 160 C.
Lightly grease and line a 20cm round cake pan.
Beat the butter, rind and sugar, until light and fluffy. Slowly ad the egg yolks, beating well.
Stir in the juice, almond meal and polenta.
Whip the egg whites, until soft peaks form. Carefully fold into the polenta mixture.
Spread the mixture into the prepared pan. Bake for about 1 hour or until a skewer inserted in the centre comes out clean.
Meanwhile, boil the lemon juice and sugar, stirring until the sugar is dissolved. Spoon evenly over the hot cake.
Additional Information
Excellent served warm or at room temperature with whipped cream.
Other recipes you might like