More recipes
Recipe search
Cowboy Chicken Casserole Remake
A community recipe by

anharcrow

Not tested or verified by Nigella.com
Print me
Introduction
I love to take recipes and redo them! I recreated my own with this one!!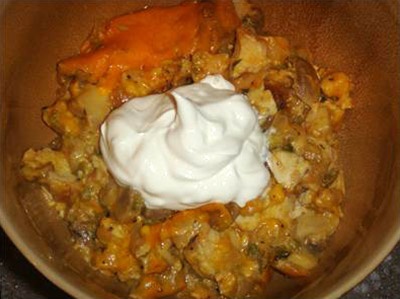 Ingredients
Serves: 8 - 10
6 chicken breasts (boneless, skinless )
seasoning
2 tablespoons butter
2 tablespoons extra virgin olive oil
1 large finely diced onion
1 finely diced green bell pepper
1 finely diced jalapeno peppers
16 ounces sliced evenly button mushrooms
kosher salt
black pepper
5 cloves minced garlic
1 tablespoon finely chopped oregano
1 teaspoon cumin
½ teaspoon chilli pepper
4 tablespoons flour
1½ cups milk
1½ cups chicken broth
millilitre crushed chips (multigrain)
3 cups shredded Cheddar cheese
Method
Cowboy Chicken Casserole Remake is a community recipe submitted by anharcrow and has not been tested by Nigella.com so we are not able to answer questions regarding this recipe.
Preheat the oven to 350 degrees F. Pound chicken breasts until they are all the same degree of thickness. Season chicken with grubs. Heat a skillet over medium high heat with butter and extra virgin olive oil. Add chicken to the pan and cook for 3-4 minutes on each side. Remove chicken from the skillet and set aside.
Add onions, bell pepper, jalapenos, mushrooms, kosher salt/ground black pepper and cook, stirring occasionally, until the mushrooms release their liquid. Add garlic, oregano, chili powder, cumin, and flour to the skillet. Cook for 2 minutes. Add the milk and stir, scraping up any bits from the bottom of the pan. Cook until the mixture begins to thicken.
Add 1 ½ cups of the chicken cooking liquid, stir, and cook until very thick and flavorful, about 10 minutes. Remove from the heat.
Place the tortilla chips in the bottom of a 9 by 13-inch glass casserole. Crush the chips with your hands so they form a thin layer on the bottom of the dish. Scatter the chicken over the top of the tortilla layer. Top with 1 cup of shredded cheese. Pour sauce over the chicken and top with remaining cheese. Bake uncovered for 40 to 45 minutes, or until the cheese is bubbly and the casserole is heated through. Let sit for 5 minutes before serving.
Other recipes you might like