Print me
Introduction
This incredible Apple Crumble Cake is a most welcome addition to my table this week. As Autumn begins to wave at us from the back row my apple trees are weighty with beautiful Bramleys. This moist cake is perfect for them and is a cake of many hats being perfect as a coffee cake or just damn delicious as a warm pud with vanilla custard or cream.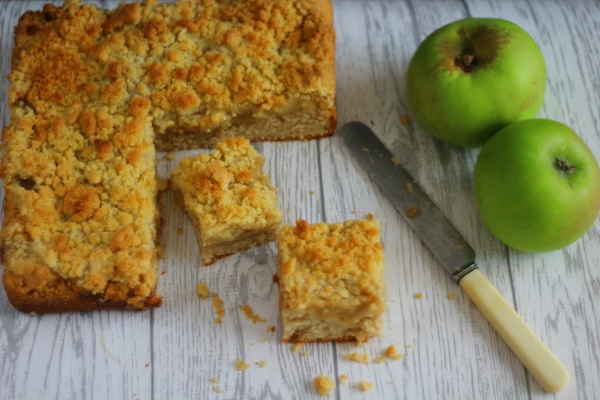 Crumble Topping
100 grams plain flour
1 teaspoon baking powder
75 grams cold butter
75 grams caster sugar
Sponge
100 grams soft unsalted butter
175 grams plain flour
3 tablespoons milk
100 grams caster sugar
1 teaspoon baking powder (heaped)
1 teaspoon ground cinnamon
2 large eggs
Stewed Apples
300 grams bramley apples
25 grams unsalted butter
1 teaspoon ground cinnamon
50 grams sugar (depending how tart your apples are)
Please note that nigella.com is not able to accept responsibility for any substitutions that Ocado may need to make as a result of stock availability or otherwise. For any queries, head to ocado.com/customercare.
Feel free to use the "swap" feature and adjust brands and quantities as needed.
Method
Apple Crumble Cake is a community recipe submitted by Apply-to-Face-Blog and has not been tested by Nigella.com so we are not able to answer questions regarding this recipe.
Preheat the oven to 180ºC/160ºC Fan.
For the crumble topping- you could sift the flour and baking powder into a bowl and then rub in the butter with your fingers until like breadcrumbs before mixing in the sugar. I just blitz the lot in my food processor until sandy and rubbly - just keep whizzing. Place in the fridge to chill until you're ready for it.
For the cake, cream the butter until soft in a free standing mixer or with a hand held whisk. Add the sugar and whisk until pale and fluffy.
Beat in the eggs one at a time before sifting the cinnamon, flour and baking powder into the bowl. Whisk until mixed through then add the milk. You may need to add more milk to get it to a soft dropping consistency.
I use an 20cm/8-inch loose bottomed square cake tin. It is a deep one though. A 23cm/9-inch would be the better bet if your tin is not deep. Fill the tin with the cake batter as level as you can. Spread the apple mixture gently over the cake batter. Scatter the crumble mix all over and bake the cake for 45/50 minutes. Watch carefully at the end as the top can start to catch.
Other recipes you might like