More recipes
Recipe search
Baked Salted Caramel Cheesecake
A community recipe by

theaveragejosh

Not tested or verified by Nigella.com
Print me
Introduction
To clarify, it is the cheesecake which is baked and not the caramel. This cheesecake is very rich and very indulgent, and makes the perfect dessert for any special occasion. I make a cheesecake every christmas, usually laced with some sort of booze; if you want to do so with this, I'd suggest using an irish cream or a spiced rum to do so.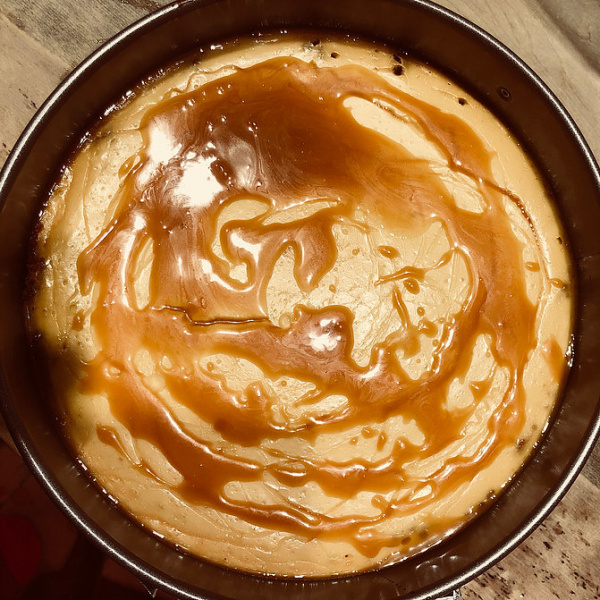 Base
200 grams gingernut biscuits
75 grams unsalted butter melted
1 pinch of salt
Topping
600 grams cream cheese (at room temperature)
3 large eggs
3 large egg yolks
260 grams salted caramel sauce from a jar
2 shots baileys (optional)
Method
Baked Salted Caramel Cheesecake is a community recipe submitted by theaveragejosh and has not been tested by Nigella.com so we are not able to answer questions regarding this recipe.
Start snapping up the biscuits and placing them in a food processor, or just crushing the biscuits as best as you can with your hands or a rolling pin. Blitz/smash the biscuits until you have mostly large crumbs. While still blitzing, slowly begin pouring in the butter through the funnel (or just add it to the bowl of crumbs) until you have the texture of damp sand. Line the bottom of a springform tin with two layers of overlapping clingfilm. Grease the side of the tin well with butter before clamping it back onto the base. Cover the bottom of the tin with the biscuit mixture and use your knuckles to flatten everything down and push the mixture slightly up the sides. Pop this in the fridge for 30 minutes to chill and set and preheat the oven to gas mark 4.
When the base has almost finished chilling, place the eggs, yolks and cheese into a food processor. Blend this until smooth and then mix in the baileys and most of the jar of caramel - you need to keep enough caramel back to top the cheesecake later, with the caramel, Irish cream and a pinch of salt. You can, of course, do all of this in a bowl with a whisk or metal spoon, but don't let the mixture get airy.
Pour the cheese mixture over the base and place the whole thing in a roasting dish. Fill the dish 1/2 of the way up with boiling water from the kettle and then pop the cheesecake in the oven. It needs to bake for 1 hour 20 minutes, by which point the top and sides will definitely be brown and cooked. Leave the cheesecake to cool completely, still in the tin, before popping it in the fridge. Take it out of the fridge an hour or so before you want to eat it, then pour any remaining salted caramel over the top of the cheesecake. Serve!
Other recipes you might like