Print me
Introduction
Dry red peppers are a speciality in the southern part of Serbia.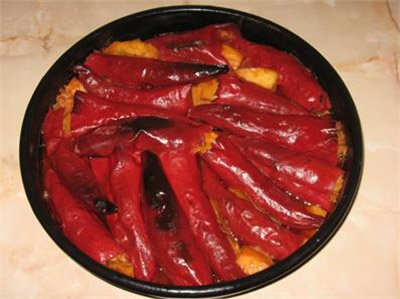 17 red bell peppers
½ cup oil
1 large sliced onion
3 large shredded carrots
1 large shredded potato
1 handful fresh parsley
salt
black pepper
1 cup rice (uncooked)
3 tablespoons tomato puree
2 eggs
1 small thinly sliced potato
10½ fluid ounces tomato juice
Method
Stuffed Dry Red Peppers is a community recipe submitted by belgrade and has not been tested by Nigella.com so we are not able to answer questions regarding this recipe.
In a deeper pan heat oil, drop onion, stir a bit, add carrots and potato, stir so that it doesn't stick for about 5 minutes (can add a bit of water or oil if it starts sticking), add salt and black pepper.
Add rice while constantly stirring for about 30 seconds.
Take off the stove, add parsely and tomato paste Let cool, then add 2 whole eggs, and let cool completely for the rice to absorb the leftover liquid wash peppers in warm water, stuff peppers 2/3 full, close with bits of thinly sliced potato.
Oil the casserole, pour a bit of tomato juice and put peppers in not to tight for they will expand cover with the left over tomato juice, and water so the liquid comes up about 2 cm above the peppers cover with aluminum foil.
Bake at 220 for 30 minutes, reduce to 180 and bake 60 more minutes.
Take out of the oven let cool, the peppers will keep absorbing the liquid left over.
Additional Information
If there is some stuffing left over, freeze it for the next time. If you have more space in the casserole put cut potato slices to fill the space like I did Walnuts crushed are wonderful in the stuffing and the other root vegetables (celery root, parsly root) leave out the eggs if you want a vegetarian version.
Other recipes you might like