Print me
Introduction
Last year I was inspired by this recipe from Nigella.com Cherry Cheesecake recipe to do this in a great way with Blackberries I had picked and thought I would make a different kind of Cheesecake. I told my friends who asked for the recipe after my photos and I have been sharing this recipe with everyone so far. I also thought I would do this from scratch but have been trying different toppings to try out to see which looks the best.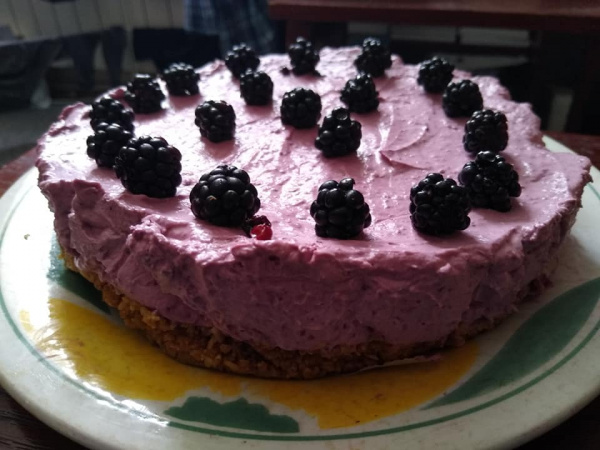 250 grams hobnobs (crushed)
75 grams butter (melted)
3 leaves gelatine
1 juice of lemon
300 millilitres double cream
250 grams blackberries
Method
Blackberry Cheesecake is a community recipe submitted by Brybaz and has not been tested by Nigella.com so we are not able to answer questions regarding this recipe.
Crush the biscuits in a large bowl with a rolling pin handle until it turns to crumbs, then heat the butter in a pan and add the biscuits and mix well until all the butter has made the biscuits moist.
Put Greaseproof or baking paper into the a 20 cm or 8 inch round tin with a bottom you can lift up.
Press this mixture into the tin with a metal spoon; you can leave it flat on the bottom or put some along the sides at the bottom for a slight ridge if desired.
Heat Blackberries (but leave some for decoration on the top) with 2 tablespoons of water and a little sugar until the Blackberries are soft then Sieve them with a metal spoon. (Put the seeds in a bowl and you can eat them with yoghurt as a desert.) Add the lemon juice and allow to cool.
Whip the double cream until firm,
Put Gelatine leaves in cold sieved Blackberry for 10 mins then heat until gelatine has dissolved and add to cream cheese and add to the whipped cream
Spoon the cheesecake filling on top of the biscuit base and smooth with a spatula or metal spoon.
Put it in the fridge for 3 hours or overnight.
When you are ready to serve the cheesecake, pop up from the bottom of the tin and place on serving plate.
Decorate on the top with Blackberry Jelly or Blackberry Icing or just Blackberries on their own or a combination of two of them.
Other recipes you might like