More recipes
Recipe search
Easy Chocolate and Orange Cheesecake
A community recipe by

Brybaz

Not tested or verified by Nigella.com
Print me
Introduction
One Christmas my brother asked me to provide him a Jamie Oliver Chocolate and Orange cheesecake. He did not know if you could buy or make it so I looked all over the internet trying to find it or a recipe without success. After thinking it through, I came up with the idea of using Orange jelly with a chocolate and cream cheese in it. It took me 3 attempts to get it right and it has been popular ever since and is one of the most asked cheesecake for me to make. It is easy-peasy to do.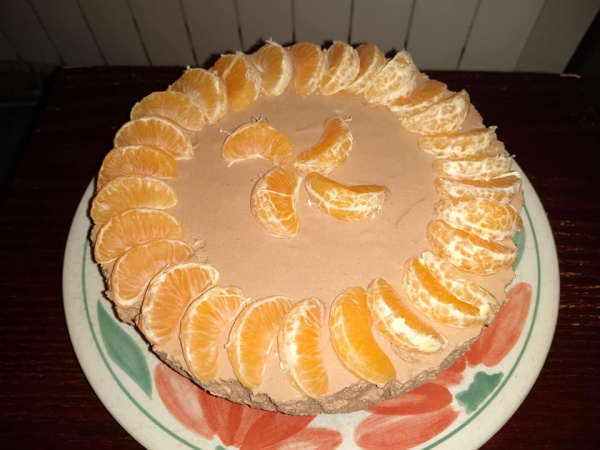 250 grams hobnobs (crushed)
50 grams butter (melted)
300 grams soft cream cheese
300 millilitres double cream
40 grams cocoa powder
1 packet orange jelly cubes
200 millilitres hot water
4 clementines (for the topping)
Method
Easy Chocolate and Orange Cheesecake is a community recipe submitted by Brybaz and has not been tested by Nigella.com so we are not able to answer questions regarding this recipe.
Crush the chocolate hobnobs with a rolling pin handle in a bowl until they look like fine bread crumbs.
Melt the butter over a slow heat and add the crumbs to it and mix well until all the butter has made the biscuits moist.
Line with greaseproof or baking paper into a 20 cm or 8 inch round tin with a bottom you can lift up.
Spoon the biscuit base with a metal spoon and press to make it flat and then put in the fridge to cool and set.
Break the orange jelly squares and add the hot water and stir until the cubes are melted and place in a bowl of cold water to cool down.
Whip the double cream until firm, then add the soft cream cheese and cocoa powder and mix well.
Add the jelly liquid to the cheesecake filling and mix well.
Take the biscuit base out of the fridge and spoon the cheesecake filling on top and smooth with a spatula or metal spoon and place back in fridge until set.
When set peel the clementine's, break into segments and place as a pattern on top of the cheesecake and then serve.
Tip: You can add 200g of melted milk chocolate instead of cocoa powder. You can also add icing sugar to the cream cheese mix, if you require the cheesecake to be sweeter. You can replace celmentine's with satsumas or oranges for decoration.
Other recipes you might like