Print me
Introduction
There are as many versions as people who make it. This is mine, and it's a yummy one - well I think so :)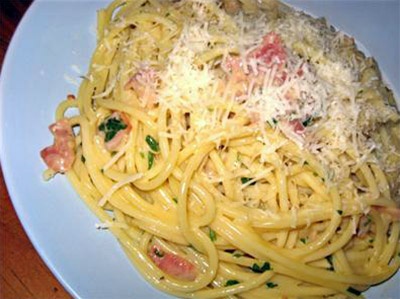 18 ounces tubular spaghetti
8 rashers diced bacon
1 large finely diced red shallot
2 cloves finely chopped garlic
2 tablespoons light olive oil
1½ cups white wine
4 egg yolks
1 egg
freshly ground pepper
1½ cups cream
1½ cups grated Parmesan
1 tablespoon butter
2 tablespoons chopped fresh parsley
Parmesan cheese (extra for garnish)
1½ cups water
1 pinch of salt
Please note that nigella.com is not able to accept responsibility for any substitutions that Ocado may need to make as a result of stock availability or otherwise. For any queries, head to ocado.com/customercare.
Feel free to use the "swap" feature and adjust brands and quantities as needed.
Method
Carbonara is a community recipe submitted by Coby and has not been tested by Nigella.com so we are not able to answer questions regarding this recipe.
Put lots of water on to boil for the pasta.
Heat the oil in a pan on medium - low heat, add the bacon and shallot, cook gently until shallot's translucent - don't brown.
Add the white wine and cook off for a couple of minutes, until most of the wine is cooked off.
Turn off the heat add the garlic and set aside. In a bowl combine the egg yolks, whole egg, a pinch salt (don't need much), plenty of finely grated black pepper, and cream.
Whisk to combine.
Stir the parmesan cheese into this. When the water is boiling for the pasta, add salt and pasta and bring back to boil asap. Cook until al dente, scoop out a mug full of the cooking water.
Drain pasta, return pot to a very low heat. Tip the pasta back into the pot, add the bacon and wine mixture, along with the butter, and about a half a cup of the water.
Stir to combine, then add the parsley and egg mixture and another 1/2 cup of the cooking water.
Toss together well until the mixture is well distributed. Serve immediately topped with extra parmesan. If this is left sitting before serving, you can bring it back with just a little more of the pasta water and a gentle heat - but it's better served immediately.
Other recipes you might like