Print me
Introduction
Necessity being the mother of invention, I had a panettone given to me, and had to make something with it. Nigella's influence shining through with the addition of Marsala. I got the idea for this recipe from Taste.com.au. but as I haven't found decent cherries in a jar locally, went my own way and tweaked the recipe to suit myself.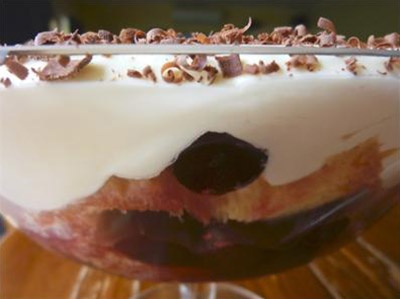 700 grams panettone
300 grams double cream (thickened)
500 grams mascarpone cheese
100 millilitres marsala
50 grams chocolate (grated)
700 grams cherries (pitted)
200 grams caster sugar
125 millilitres water
125 millilitres marsala
Please note that nigella.com is not able to accept responsibility for any substitutions that Ocado may need to make as a result of stock availability or otherwise. For any queries, head to ocado.com/customercare.
Feel free to use the "swap" feature and adjust brands and quantities as needed.
Method
Cherry and Marsala Trifle is a community recipe submitted by Coby and has not been tested by Nigella.com so we are not able to answer questions regarding this recipe.
Prepare the cherries first; put the sugar, water and Marsala together in a pot on a medium low heat. Stir the mixture gently helping the sugar to dissolve. When the liquid looks and feels clear of any grainy sugar bits, bring to the boil. Add the cherries and stir about a bit as the syrup returns to the boil. Cook for just a couple of minutes before removing from heat and setting aside to cool. Drain cherries, reserving the syrup.
Assembling the trifle; cut the panettone into disks, remove crust and cut again into four to six squares or rectangles as is your preference.
Put a layer of panettone in the base of your trifle bowl and sprinkle over a couple of tablespoons worth of cherries. Put a second layer of panettone, and another couple of spoons of cherries. Add the final layer of panettone and finish with the cherries. Pour the Marsala into the syrup and pour over the panettone and cherries.
Lightly whip the cream, and then mix the sugar into the mascarpone. Fold the cream through the mascarpone before pouring the mixture over the panettone.
Cover the trifle with cling wrap and leave it in the fridge for at least two hours though longer is better so overnight would be great. When ready to serve, grate the chocolate over the cream.
Additional Information
The cherries are delicious even without being turned into my very own trifle - just with ice cream they'd do me. I am guessing you don't need to remove the crust from the cake, and if you choose not to, you'll probably get by with using just half the amount of cake. I was not being frugal!
Other recipes you might like