Print me
Introduction
Any Dr Seuss fans will appreciate any recipe where 'green' and 'eggs' appear I'm sure. This is a favourite of my children, combining two family favourites - soup and eggs. You need seriously fresh eggs for best poaching results. While I haven't ever been bothered to take the extra step, I think some crumbled crispy bacon or pancetta would be delicious with this.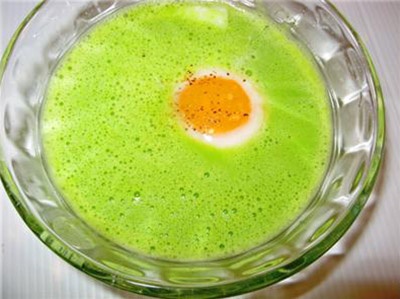 1 cup water
1 cup frozen peas
1 scallion
black pepper (optional)
salt (if using homemade stock)
1 large chicken broth cube
3 eggs
cream
Please note that nigella.com is not able to accept responsibility for any substitutions that Ocado may need to make as a result of stock availability or otherwise. For any queries, head to ocado.com/customercare.
Feel free to use the "swap" feature and adjust brands and quantities as needed.
Method
Green Peekaboo Eggs is a community recipe submitted by Coby and has not been tested by Nigella.com so we are not able to answer questions regarding this recipe.
Put the water and scallion in small pot and bring to boil, add the stock cube and peas and bring back to the boil. Turn off the heat and leave it sit for a few minutes.
Meanwhile, heat a small non-stick frying pan with water to come half-way up the side. When it's at a simmer, add the eggs. When the white is just about set, turn off the heat.
Turn your attention back to the pea soup now. Remove the scallion and discard. Using a slotted spoon put the peas into a blender and add about a half a cup of the liquid from the soup. Puree the peas and then pour them into a jug. Add the remaining liquid to the blender and blend again to incorporate the puree still in the blender. Pour as much of this liquid in with the peas to give you the consistency you like. Add a dollop of cream if you feel the urge.
Pour a couple of tablespoons worth of the soup into small bowls, carefully lift the eggs from the pan, drain and then ease an egg over the soup gently (careful, you don't want the egg to tip upside down).
Spoon just enough of the soup around the egg so that just the yolk is peaking through. Grind a little pepper over if your children are fond of it. Serve immediately.
Additional Information
This is a throw together kind of soup. I generally don't measure but work on approximately equal measures of water/stock to frozen peas.
Other recipes you might like