More recipes
Recipe search
Spiced Pomegranate Marzipan Cake
A community recipe by

mrsrootrient

Not tested or verified by Nigella.com
Print me
Introduction
The warmth of the spices paired with the sweetness of the marzipan makes this sponge a rather luscious treat. The cake is finished with pomegranate icing and crowned with flecks of emerald green pistachios and ruby red pomegranate arils. The is slightly adapted from Nigella's 'Easy Almond Cake'.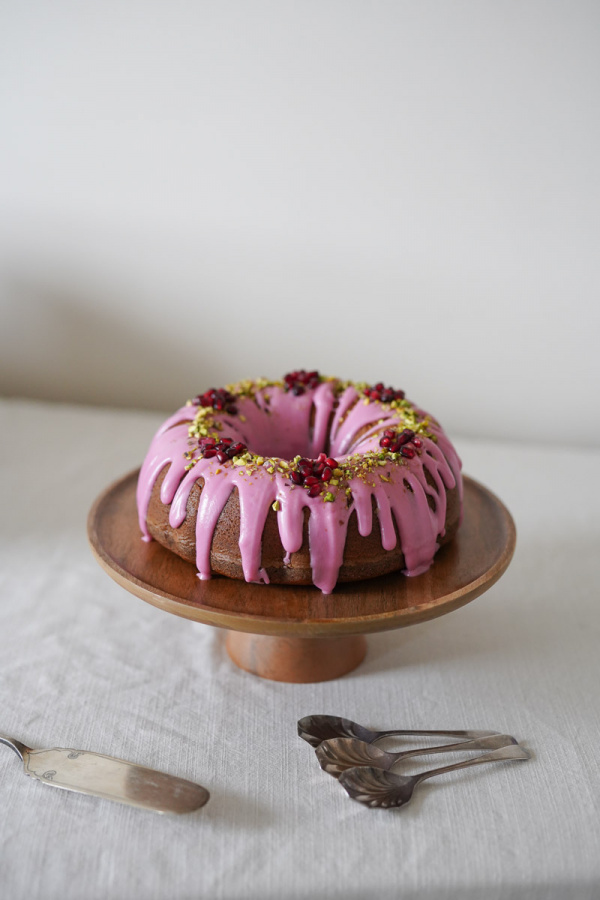 Pomegranate Icing
340 grams icing sugar (sieved)
60 millilitres pomegranate juice
1 lemon (squeezed)
Marzipan Cake
150 grams self-raising flour (sieved)
250 grams butter (cubed and softened)
250 grams marzipan (cubed and softened)
150 grams caster sugar
1 teaspoon vanilla bean paste
1 teaspoon almond essence
6 eggs
1 teaspoon baking powder
1 teaspoon cinnamon
1 teaspoon nutmeg
1 teaspoon allspice
1 teaspoon ground ginger
Method
Spiced Pomegranate Marzipan Cake is a community recipe submitted by mrsrootrient and has not been tested by Nigella.com so we are not able to answer questions regarding this recipe.
Spiced Almond Cake
Preheat oven to 375°F/190°C/Fan 170°C.
Place the butter, marzipan and caster sugar in the bowl of a food processor. Process until the mixture has a smooth consistency then add the vanilla bean paste and almond essence and process again.
The eggs should now be added one at a time. You can either tip each egg down the funnel then process briefly before stopping to add the next egg, or, keep the processor running whilst swiftly cracking and adding each egg.
Mix the flour, baking powder and spices in a separate bowl before adding to the wet mixture and process once more to amalgamate all the ingredients.
Scraping the sides of the mixing bowl with a spatula to ensure no batter is lost, tip the mixture into the prepared bundt tin and bake for between 40-50mins. None of our test versions required more than 40mins but this depends on your oven. Certainly, when your cake is golden brown test its readiness by inserting a thin skewer. If it comes out with a few crumbs attached that's usually fine, but if wet mixture is stuck to the skewer the cake needs more baking time.
Leave the cake to cool in the tin then turn out onto a cake rack and wait until it is completely cold before icing.
Place the sifted icing sugar in a bowl and then add the pomegranate juice one tablespoon at a time mixing between each addition. Finally, add the lemon juice and combine.
The frosting/icing should have a smooth fairly heavy pouring consistency that allows you to drizzle spoonfuls of the mixture over the top creating sugar larva that moves slowly down the sides of the cake. If you feel uncertain, try drizzling one spoonful of icing and if that immediately runs down the side of the cake and pools underneath the rack add more sifted powered/icing sugar to thicken the consistency.
Other recipes you might like