Print me
Introduction
My mother was away for a week or so and therefore, I had to cook. This was what I came up with and it doesn't taste so bad (almost rivals my mother's!). Just to say, use as much or as little pasta as you like, my mother uses little and I use lots. Plus tomato puree and amount of veg etc. is all to taste! I also do not like garlic or onion, but if you like, you can fry a little of both in oil before you add in the vegetables.
pasta (however much you feel like - penne, shells, spirals, whatever)
2 tubs tomato passata (or two tins of chopped tomatoes - personally I hate the skinny bits so I go for sieved passata)
2 tablespoons tomato puree
mixed herbs
seasoning (to taste)
olive oil
mixed vegetables (fresh is best but you can three quarter cook frozen veggies)
gram cheese (to taste, Cheddar, mozzarella, parmesan - choose your favourite, personally I like a mix of Cheddar and parmesan)
Method
My Mum's Veggie Pasta Bake is a community recipe submitted by cshankar and has not been tested by Nigella.com so we are not able to answer questions regarding this recipe.
Cook and drain the pasta so that it is al dente.
Heat the oil in a pan and add in the fresh (or semi cooked frozen) vegetables. Stir till they are browned.
Add the passata and the tomato puree, followed with the mixed herbs and pepper. Leave to simmer for a while until the whole sauce has thickened (i.e. the excess water has evaporated - you know what I mean!).
Once done, add salt to taste and mix with the cooked pasta and some cheese (so that it melts inside as well as on top!).
Then transfer the sauce and pasta into an oiled (not to much though) ovenproof dish and sprinkle with the remaining cheese.
Then at 200 degrees Celsius, cook for 20 - 25 minutes or until the cheese has melted. Enjoy with salad (I had some mozzarella and avocado so I made tricolore salad) and garlic bread (if you have it!).
Other recipes you might like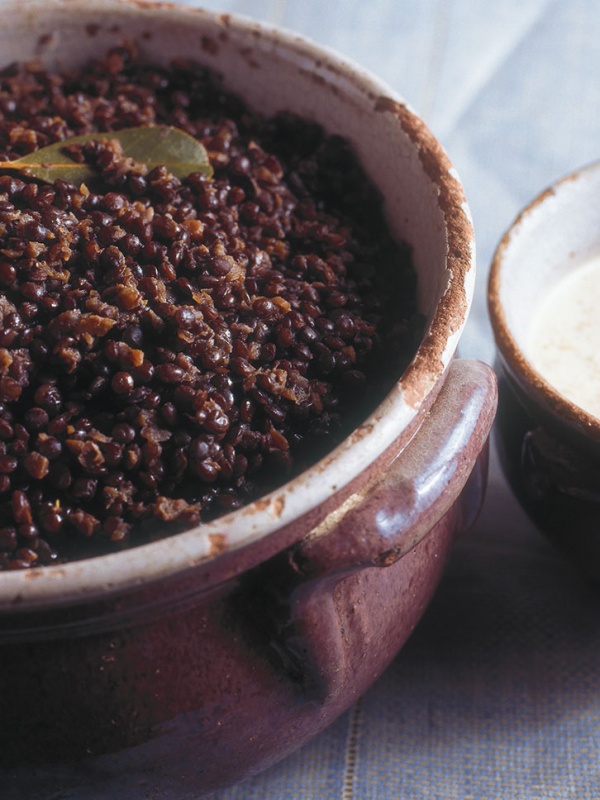 Lentils Braised in Red Wine