More recipes
Recipe search
Cannellini Bean and Kale Soup
A community recipe by

DawnFairchild

Not tested or verified by Nigella.com
Print me
Introduction
Everyone who I have served this to has requested the recipe :)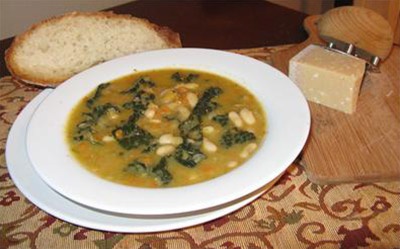 4 tablespoons olive oil
1 carrot
2 sticks celery
1 onion
5 cloves smashed garlic
1 tablespoon tomato paste
1 slice Parmesan rind
1 vegetable broth cube
2 cups cooked cannellini beans
1 tablespoon salt (or to taste)
1 pinch of pepper (to taste)
1 bunch kale (stems removed and chopped into chunks)
grated Parmesan (for serving)
Method
Cannellini Bean and Kale Soup is a community recipe submitted by DawnFairchild and has not been tested by Nigella.com so we are not able to answer questions regarding this recipe.
Blitz the carrot, onion and celery in a food processor until all is a nubbly mush.
Put olive oil in large stock pot or Dutch oven, turn on heat and add carrot/onion/celery mush and garlic cloves. The vegetables should soften, but not color. If they start to brown, add a spash of water.
When vegetables have cooked for about ten minutes, add the beans and tomato paste. Stir and let cook together for a few minutes.
Add water, parmesan rind, stock cube, pepper and salt. Boil rigorously for about 45 minutes. The rigorous boiling helps some of the cannellini beans to break down and thicken the soup - the broth should have some body to it. Add more water if needed.
Add the kale, reduce heat and simmer for 15 minutes or until kale is tender. Serve topped with a respectable amount of grated parmesan.
Additional Information
Can be made in advance.
Other recipes you might like