Print me
Introduction
This is my take on the classic buttery, lemony tea cakes. They are particularly delicious freshly made, warm from the oven.
2 eggs
½ cup sugar
1 cup flour (plus one tablespoon for preparing the Madeleine tin)
5 ounces unsalted butter
¼ teaspoon salt
1 grated rind unwaxed lemon
1 teaspoon lemon juice
1 teaspoon vanilla
Method
Madeleines is a community recipe submitted by DawnFairchild and has not been tested by Nigella.com so we are not able to answer questions regarding this recipe.
Whisk the eggs and sugar together, then beat in flour, salt and lemon rind. Meanwhile, brown the butter in a saucepan (meaning, melt it and after the initial foam subsides, a second fluffy layer of foam will form; underneath this, the milk solids in the butter will brown - aim for a nice toasty brown).
When butter has gotten to a nice color, put a tablespoon worth in a small dish and pour the rest of it in a plastic container and pop it in the refrigerator to cool.
Add a tablespoon of flour to the tablespoon of browned butter - you will brush this onto the Madeleine tins to keep the cakes from sticking.
When the butter is more or less room temperature, mix it with the egg/sugar/flour mixture along with the lemon juice and vanilla. Let this batter rest and thicken a bit while the oven preheats to 375 degrees Fahrenheit. This is a convenient time to brush that reserved butter/flour mixture onto the Madeleine tin. (You can also use cupcake tins if you don't have a Madeleine tin.)
When the oven is hot, drop a tablespoon of batter in each scallop of the Madeleine tin and bake for about 15 minutes or until golden brown around the edges. I bake the Madeleines in two batches because I only have one Madeleine tin.
Let these lovely tea cakes cool slightly on a rack before enjoying.
Other recipes you might like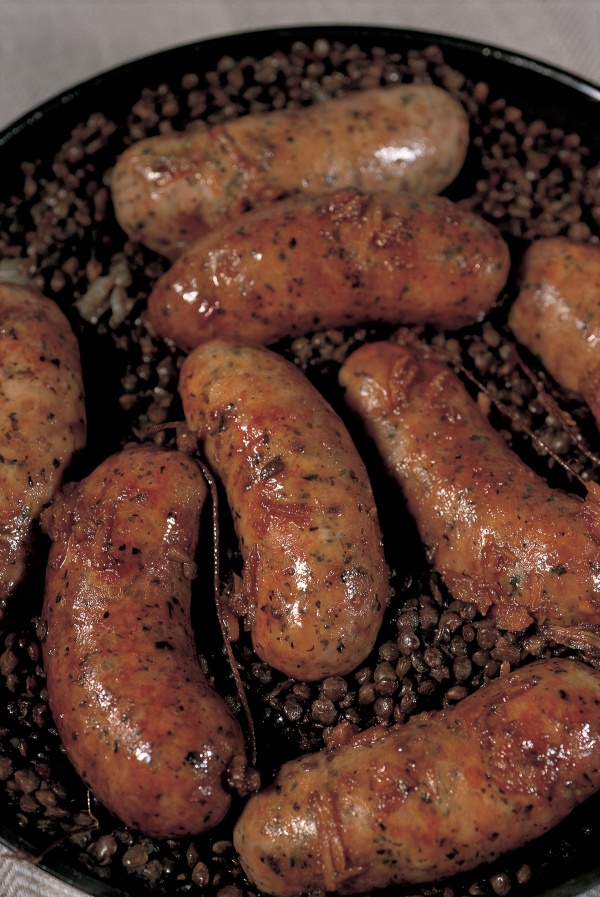 Italian Sausages With Lentils