Print me
Introduction
Firstly let me stress that this is in no way the real French deal. It's made with chicken instead of rooster and doesn't take 5 hours of slow stewing to finish. 45 minutes in the oven will do just fine.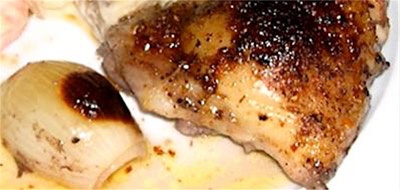 8 chicken thigh fillets (or legs or whole chicken jointed)
12 small onions (or shallots peeled and halved lengthways)
6 cloves garlic (peeled and halved)
2 tablespoons olive oil
1½ cups red wine
1 pinch of salt
1 pinch of pepper
1 pinch of paprika
1 pinch of sugar
Method
Faux Coq Au Vin is a community recipe submitted by duffs10 and has not been tested by Nigella.com so we are not able to answer questions regarding this recipe.
Preheat oven to 175°C. Place the chicken in a roasting pan that just fits it all in one layer.
Tuck in the garlic and onion halves in between the chicken. Rub the olive oil into the chicken.
Gently pour in the wine taking care not to get the tops of the chicken pieces too wet.
The wine should come about halfway up the chicken adjust the quantity accordingly. Sprinkle with seasoned salt. Roast in the oven about 45 minutes until the chicken is browned on top. Serve with a green or potato salad and crusty bread.
Other recipes you might like