Print me
Introduction
This is a simple and a delicious recipe from my country Saudi Arabia, enjoy it.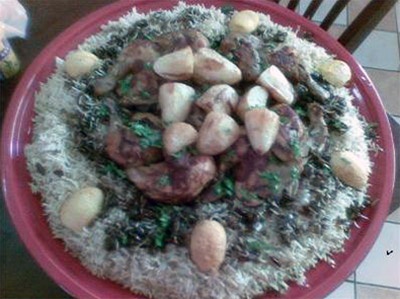 For the Main
1 chicken (cut in half)
1 teaspoon cumin seeds
5 cloves
5 cardamom
3 bay leaves
2 cinnamon sticks
1 teaspoon curry powder
1 teaspoon black peppercorns
2 chopped tomatoes (into small pieces)
2 chopped green bell peppers (into small pieces)
¼ cup butter
4 cups basmati rice
For the for the Decoration
pinenuts
raisins
onion rings
fresh parsley
lemon slices
Method
Kabsa or Rice With Chicken is a community recipe submitted by Haia and has not been tested by Nigella.com so we are not able to answer questions regarding this recipe.
Wash the rice well and soak in water for 15 minutes then strain, drain well.
In large stockpot, add chicken and pour the water over the chicken about 8 cups and bring to boil over medium high heat, skim off any froth. Add the cloves, cardamoms, cinnamon, bay leaves, peppercorns, tomato, green bell pepper, salt and curry. Cook for 25 minutes.
Strain the chicken and seasoning and fry the chicken until it turns golden, drain in paper towels.
Melt the butter in heavy casserole over medium-high heat. Add the rice and cook about 2 minutes pour in the boiling stock to cover the rice, cover and bring to boil then reduce the heat, simmer for 30 minutes the liquid should be absorbed and the rice fluffy.
Serve the rice with chicken in the prepared dish, and sprinkle with some toasted pine nuts and raisins, fried onion rings, parsley, lemon and you can put some fry potato for decoration.
Additional Information
You can use meat with this recipe but don't fry the meat just some lemon juice and tomato paste salt & spice then put in oven for 10 minutes.
Other recipes you might like