Print me
Introduction
These are Greek Christmas cookies which are very simple to make and I thought were very appropriate due to the time of year, but of course are in no means strictly Yuletide delicacies. When you bite into one of them they create a moist, syrupy sweet sensation in your mouth and the honey also adds to the flavours and texture. They are perfect to have on a warm Mediterranean summer's day and are equally at home in the chilly British winter. I like mine accompanied with a strong Greek (otherwise known as Turkish) coffee. They are also perfect to serve when friends come over and are a welcome break from dried fruit based sweets.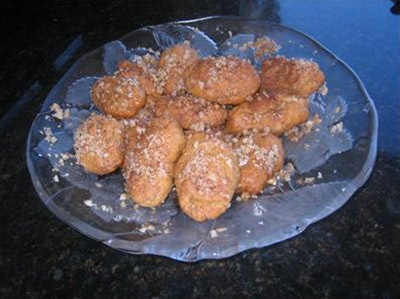 Ingredients
Serves: 24-30
For the Cookies
3 cups flour
1 teaspoon baking powder
1 teaspoon baking soda
1 cup olive oil
¼ cup sugar
½ cup brandy (or whiskey)
1 tablespoon orange zest
¼ cup orange juice
For the Syrup
1 cup honey
½ cup sugar
1 cup water
For the Garnish
½ cup chopped walnuts
1 teaspoon cinnamon
Method
Melomakarona is a community recipe submitted by Harry12345 and has not been tested by Nigella.com so we are not able to answer questions regarding this recipe.
Preheat oven to 180°C (350°F /Gas 4) In a bowl combine flour, baking power and baking soda. Mix well together.
In a separate bowl, combine oil, sugar, brandy, orange juice and orange rind. Incorporate mixture into the flour. It should be easy to knead.
Knead lightly 5. Get a heaped dessert spoon full of the dough and roll it into a 6-8cm (2½ - 3 inches) oval (it should be thick, 2 - 3cm high) Place on a greased baking tray and put it in the oven for 20 minutes or until light brown.
To make the syrup, combine the sugar, water and honey in a saucepan and boil for five minutes. Take it off the heat and allow to cool.
Dip the cookies in the syrup and then place on a serving plate. If you're like me and like things more syrupy and sweet.
Then put them in a large, shallow (but not too shallow) serving bowl and pour the remaining syrup in over the top so it collects at the bottom and the cookies bathe in the golden honey syrup (eat the ones at the bottom first). Garnish with chopped walnuts and cinnamon.
Additional Information
I usually use Scotch whiskey but brandy is the traditional way (though it really makes no difference), my Greek Grandmother likes to use Vermouth for hers but I don't think it has the same affect. Also if you are like me and are impatient, don't bother about waiting for the syrup to cool, just use tongs to dip them. I must also add that cinnamon and walnuts are vital, don't ever skip them as they both add a dusty Greek flavour to the dish (and makes them somewhat Christmasy).
Other recipes you might like