More recipes
Recipe search
Healthy Banana Blueberry Muffins
A community recipe by

fathimamallick

Not tested or verified by Nigella.com
Print me
Introduction
These delectable muffins are a perfect breakfast for all you busy folks. You can make a batch and store it in an airtight container for a sweet breakfast or snack ready to go. You can also swap the blueberries for cranberries or raspberries. The shredded coconut scent with the blueberries is a lighter version to store-bought muffins. Enjoy both warm and cold.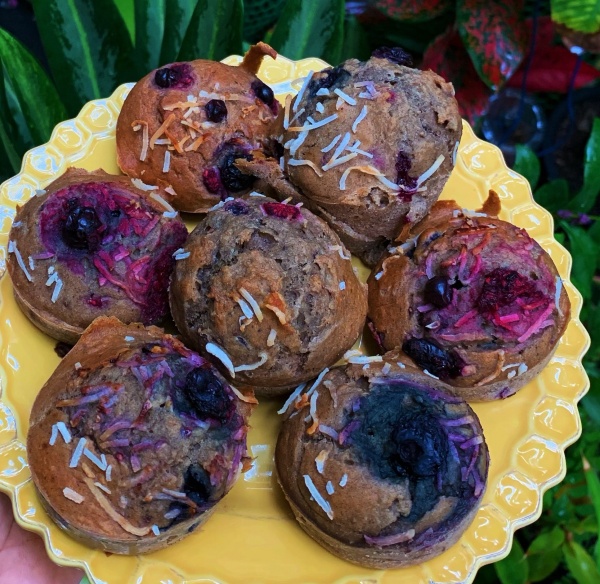 2 cups whole wheat flour
1 teaspoon baking powder
1 pinch of salt
1 cup brown sugar
1 cup Greek yoghurt
3 cups almond milk
1 teaspoon cinnamon
2 tablespoons honey
2 bananas (mashed)
1 egg
1 cup fresh or frozen blueberries
3 heaping tablespoons shredded coconut
Please note that nigella.com is not able to accept responsibility for any substitutions that Ocado may need to make as a result of stock availability or otherwise. For any queries, head to ocado.com/customercare.
Feel free to use the "swap" feature and adjust brands and quantities as needed.
Method
Healthy Banana Blueberry Muffins is a community recipe submitted by fathimamallick and has not been tested by Nigella.com so we are not able to answer questions regarding this recipe.
Preheat the oven to 350F/180C. Line a muffin tray with coconut oil or butter.
Whisk the whole wheat flour, baking powder, salt, and cinnamon together.
In a separate bowl, mix honey and brown sugar. Add in the mashed bananas, greek yoghurt and the egg.
Pour the wet batter into the dry mixture slowly. Mix with a spatula and pour the almond milk into the batter. It should have the consistency of a cake batter and if it is too dry, add some more milk.
Fold in the blueberries and shredded coconut. Pour the batter into the muffin tray, filling each cup about two-thirds full.
Bake for 15 - 20 minutes. You will know it is done when the muffins have risen and a toothpick comes out clean but with tints of purple. It can be enjoyed both warm and cold.
Other recipes you might like