More recipes
Recipe search
Celery and Gorgonzola Soup
A community recipe by

IRLPatricia

Not tested or verified by Nigella.com
Print me
Introduction
A wilting half bunch of celery and a root round the fridge and pantry for other bits and bobs yielded this lovely soup. There's a major cheat in here that some will turn their noses up at but it yielded an in the door to on the table delicious dinner in 20 minutes! If you've got time, peel, dice and cook a large potato in the broth instead. The Gorgonzola is creamy enough you don't need any more cream added. This is just a superb combination of flavours.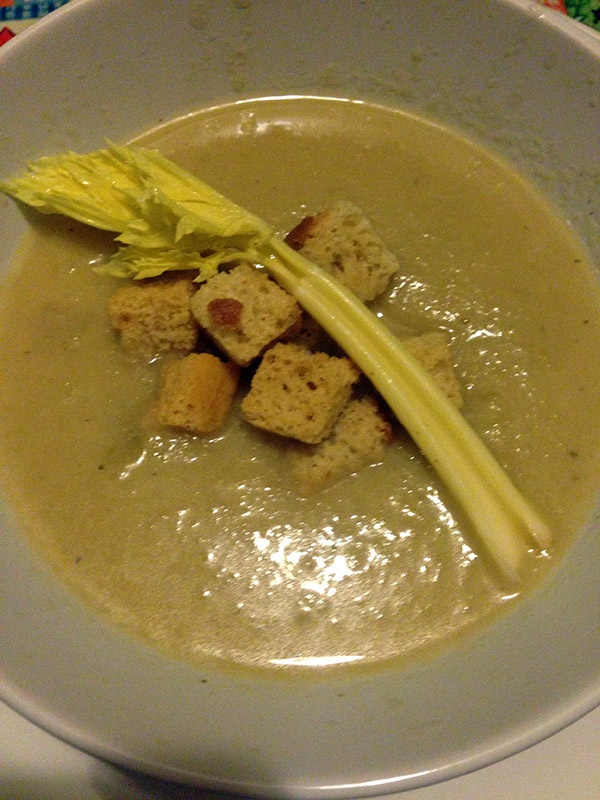 6 sticks celery
1 small onion (finely chopped)
500 millilitres chicken stock
100 grams gorgonzola cheese
2 tablespoons instant mashed potato powder
sprinkling of salt
sprinkling of black pepper
1 teaspoon butter
1 teaspoon olive oil
Method
Celery and Gorgonzola Soup is a community recipe submitted by IRLPatricia and has not been tested by Nigella.com so we are not able to answer questions regarding this recipe.
Finely chop celery and sweat in a heavy pot with a teaspoon each of butter and olive oil.
Finely chop the onion and add it to the pot, cooking til lightly golden.
Add the stock and simmer for 10 minutes.
Remove the pot from the heat. Crumble in the Gorgonzola and add to the pot and sprinkle on the potato flakes.
Blend with a hand blender. Serve with croutons and a celery stalk for crunching!
Other recipes you might like