More recipes
Recipe search
Keith Richard's Favourite Shepherd's Pie
A community recipe by

MarionKane

Not tested or verified by Nigella.com
Print me
Introduction
Keith Richards loves Shepherd's Pie and so do I. What's more, I consider this recipe – perfected over many years – to be the ultimate version.
My simple but superb rendition is made from scratch. However, I often make Shepherd's Pie from food languishing in my fridge – meat like leftover roast beef, cooked pork or chicken and occasionally lamb. Also, sad and sundry vegetables, both cooked and raw.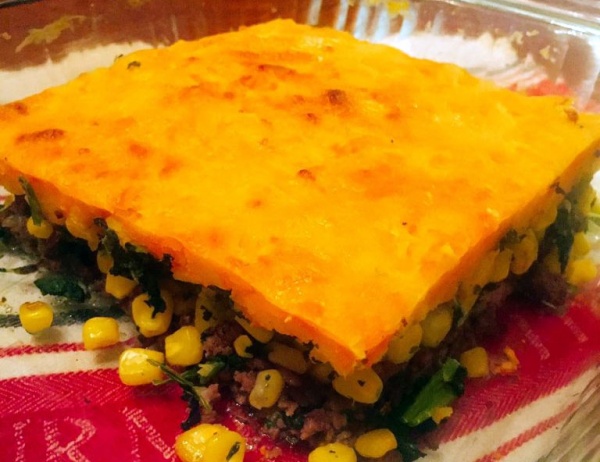 3 tablespoons vegetable oil
2 pounds ground beef
1½ teaspoons salt or to taste
3 tablespoons fresh thyme
2 large onions roughly chopped
1½ tablespoons flour (all purpose)
2 cups beef broth or chicken stock
3 cups kale chopped
3 cups sweetcorn frozen or fresh
3 large potatoes peeled and sliced
1 large sweet potato peeled and sliced
1 cup milk
3 tablespoons butter
salt to taste
Method
Keith Richard's Favourite Shepherd's Pie is a community recipe submitted by MarionKane and has not been tested by Nigella.com so we are not able to answer questions regarding this recipe.
Heat 1 tablespoon of oil over medium-high heat in large skillet. Add ground beef, salt and thyme. Cook until browned, 5 to 8 minutes, breaking up with large fork or potato masher. Transfer with slotted spoon to 9 x 13-inch ovenproof baking dish in even layer.
Reduce heat under skillet to medium. Add remaining oil and onions. Cook, stirring, until golden brown, 5 to 8 minutes. Add flour; cook, stirring, about 3 to 5 minutes. Add salt. Whisk in stock; cook, whisking, until thickened, about 3 to 5 minutes. Add salt, if necessary. Pour mixture over beef in ovenproof dish. Add kale in even layer, then corn kernels.
Cook potatoes and sweet potato in boiling, salted water until soft. Drain. Add milk, butter and salt. Mash by hand with potato masher. Spread over vegetable layer in ovenproof dish. Sprinkle with cheese.
Bake in preheated 350F oven about 40 minutes or until heated through and cheese melted. Place under broiler to brown, if desired, for a few minutes.
Other recipes you might like