Print me
Introduction
Chicken with garlic cloves - the garlic isn't too much at all, just creamily delicious.
For the Dumplings
3 medium potatoes
1 large egg
½ teaspoon salt
½ teaspoon pepper
½ cup all-purpose flour
For the Sauce
1 cup heavy cream
2 ounces crumbled gorgonzola cheese
2 ounces cubed taleggio cheese
½ cup Parmesan cheese
Method
Garlicky Chicken is a community recipe submitted by klp66 and has not been tested by Nigella.com so we are not able to answer questions regarding this recipe.
Boil the garlic-cloves in a small saucepan with the cream for about 25 mins. The garlic should be really tender. Be careful not to burn the cream.
Mash everything to a thick custardy consistence, add salt and pepper to taste. Let it cool.
Lift the skin carefully off the side of the breasts, put garlic-cream under skin. Put back in place and seal with a piece of string.
Put it in an ovenproof dish, skin side up, drizzle with a little oil and fry in a 200 degrees hot oven for about 25-30 mins. until light brown Serve with pasta.
Other recipes you might like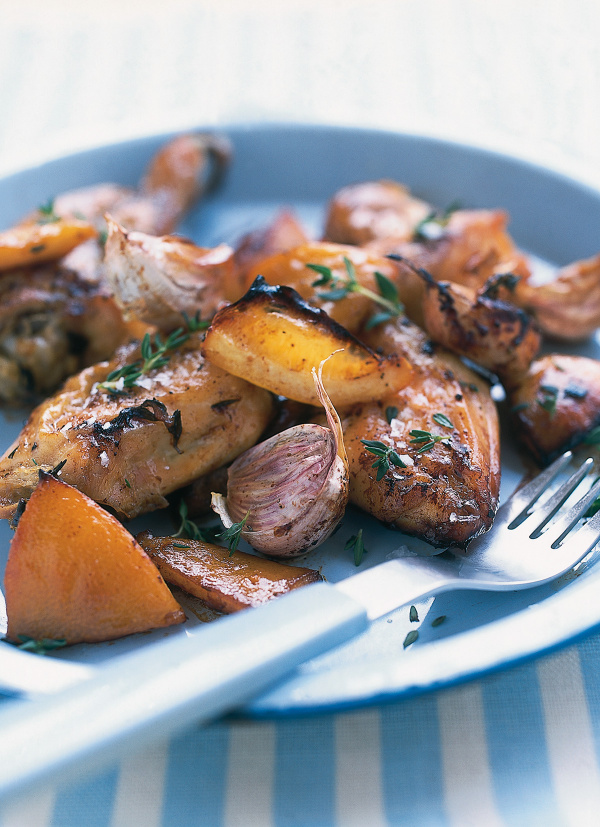 Slow Roasted Garlic and Lemon Chicken