Print me
Introduction
My culinary ambitions were fired up recently when the Italian consul in Goa, India, Antonio Dalnegro, and his wife Laura confirmed they would come for dinner to our humble abode. Laura Dalnegro is one of the best cooks I know and she is a gifted teacher as well. She managed to pass on her considerable knowledge in the kitchen to her maids who have turned into extraordinary cooks themselves. Laura Dalnegro hails from Genoa in Liguria, an Italian region known for many delicacies, among them first-class olive oil, pesto and focacchia, luscious bread smothered in olive oil. For this dinner I wanted to prepare something special and creative in the hope to demonstrate my cooking skills. I came up with the following dish, which got me many compliments. I have added it to the rather short list of recipes I keep on preparing for my beloved men because even my son likes these chicken rolls. They not only taste delicious, they are also easy to make and dont take a long time preparing. So far I have not been able to gather any experiences about freezing them, yet. They disappear so quickly.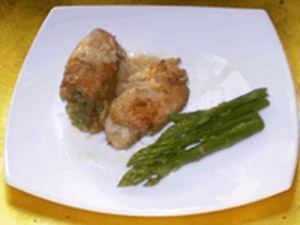 Ingredients
Serves: for about 4 servings
32 ounces chicken breasts (or boneless legs)
5 tablespoons pesto
1 cup wholewheat flour
5 tablespoons olive oil
3 large red onions
1 cup white wine
2 cups chicken broth (or beef stock or water)
Method
Chicken-Pesto-Rolls is a community recipe submitted by Kornelia and has not been tested by Nigella.com so we are not able to answer questions regarding this recipe.
For this recipe you can use either commercial or homemade pesto. Please check out my website here. When you buy the frozen chicken, please verify the manufacturing date and pay attention, that the packing is not damaged or ice crystals bloom all over the meat. A layer of ice crystals around frozen meat indicates it has thawed during one of the frequent power cuts and then been refrozen.
Start with preparing the meat. If you have boneless legs, cut away all sinewy parts. If you have chicken breasts, carefully slice each breast into 2 big, thin peaces. Although rolls made from breasts look nicer, the meat from the legs tastes better.
Spread pesto thinly over each piece of meat. Then roll them up with the pesto facing inside and secure them with toothpicks.
Put your flour in a plate and turn the rolls in the flour, so all sides are well coated. Heat the olive oil in a big pan and fry your rolls until they have a lovely, golden color all over. While the rolls are frying, peel your onions and chop them as finely as possible. I use a mini-blender for this purpose.
Take your rolls out of the pan and keep them aside. Bronze your onions in the pan until they start to brown. Then add the white wine and the stock, season according to your taste with salt and freshly grated pepper. When I write according to your taste, please take it literally and really taste your dish.
I normally use stock for this dish from cooking beef in my pressure cooker. This leaves me with about 1 liter of stock which can be kept for weeks in the fridge. You can also use stock made from cubes or from extract, preferably without monosodium glutamate. If you dont have stock available, simply use water.
Let the sauce boil for about 2 minutes while stirring well, then add your chicken rolls and keep on simmering on low heat for 15 minutes. Your rolls are now ready to be served. Together with steamed rice, boiled potatoes or bread and a nice salad or some other vegetables, you have a beautiful dinner fit also for demanding guests.
Additional Information
Atta: full grains ensure complete nutrition Wheat is an ancient grain, which humans eat for more than 12,000 years. It played a vital role in the sacred rituals of many cultures. Greek, Roman, Sumerian and Finnish mythology had gods and goddesses of wheat. Although I do not pray to the goddess of wheat, it plays an important part in feeding my family. In my kitchen I practically never use white flour, only whole wheat flour or atta, as it is called in India. This has one reason: White flour lacks the bran and the germ of the wheat grain, the parts which offer the most nutrition. From a health point of view refining flour makes no sense at all. Whole wheat is a good source of dietary fiber, manganese and magnesium which help prevent many diseases. Different research studies show that eating frequently whole grains can help avoid type 2 diabetes and the forming of gallstones. Food rich in fiber keeps your colon moving and can help to protect you and your loved ones from breast and other hormone related cancers, colon cancer, childhood asthma and heart disease. Recently scientists claimed whole grains may be even more beneficial as is known today. According to press reports research methods have overlooked many powerful phytonutrients in whole grains. It seems that for years researchers have only measured free forms of phytonutrients, which are immediately absorbed into the bloodstream. The bound forms however are attached to the walls of plant cells. They must be released by bacteria in the intestines to be absorbed by the body. This does not matter so much when you analyze fruits and vegetables, as they have more than 70 per cent freephytonutrients. But in whole grains bound hytonutrients make up 99 per cent, which so far have been ignored. This may help explain the low risk for colon cancer of populations eating diets high in fiber-rich whole grain. Whenever I buy whole wheat flour, I check out the manufacturing date. Instead of choosing a brand I choose the packet which is freshest. A short description of the nutritional values of other ingredients used in this recipe is available on my website.
Other recipes you might like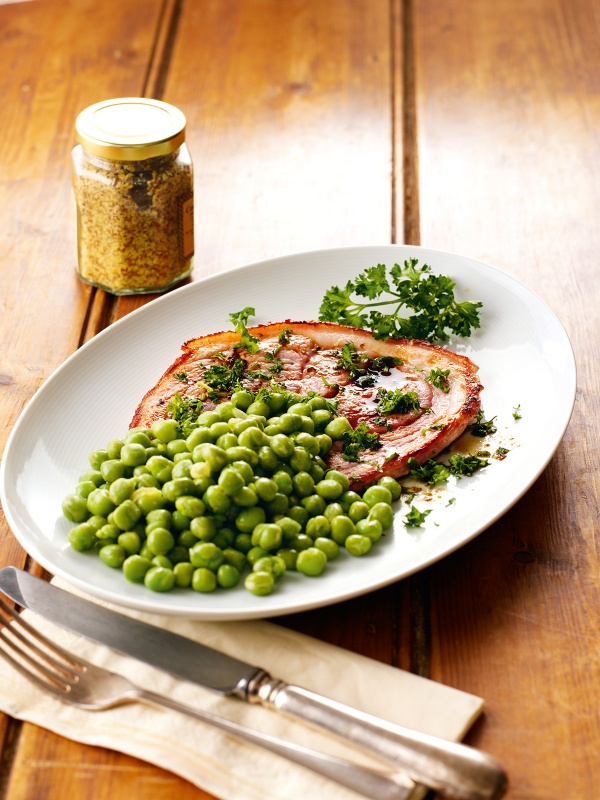 Gammon Steaks With Parsley