More recipes
Recipe search
LEMON, RASPBERRY & WHITE CHOCOLATE CHIP CUPCAKES
A community recipe by

The_Baking_Nurse_Cupcakery

Not tested or verified by Nigella.com
Print me
Introduction
I wanted to make some lemon cupcakes a bit more luxurious, so decided to add white chocolate chunks, but have found that white chocolate chips work just as deliciously! Raspberry added to the frosting is also lovely. These have been frosted with a lemon, Raspberry & white chocolate frosting as well & a large white chocolate button.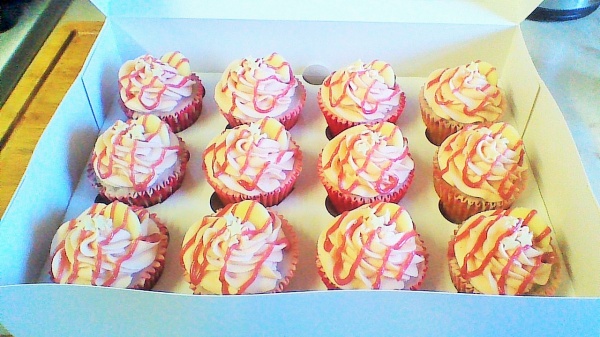 Cupcakes
125 grams self-raising flour
125 grams golden caster sugar
125 grams margarine
2 eggs
1 teaspoon vanilla extract
1 teaspoon bicarbonate of soda
1 teaspoon lemon zest
1 teaspoon lemon juice
1 tablespoon sour cream
100 grams white chocolate chips
Frosting
250 grams unsalted butter softened
350 grams icing sugar sifted
1 pinch of salt
3 teaspoons raspberry jam softened
3 teaspoons lemon curd softened
Please note that nigella.com is not able to accept responsibility for any substitutions that Ocado may need to make as a result of stock availability or otherwise. For any queries, head to ocado.com/customercare.
Feel free to use the "swap" feature and adjust brands and quantities as needed.
Method
LEMON, RASPBERRY & WHITE CHOCOLATE CHIP CUPCAKES is a community recipe submitted by The_Baking_Nurse_Cupcakery and has not been tested by Nigella.com so we are not able to answer questions regarding this recipe.
Pre-heat fan oven to 170°C. Line a 12 hole muffin tray with cupcake liners. In bowl of stand mixer weigh sugar & margarine, attach cake beater attachment & beat until pale & creamy. Break eggs into a separate bowl & beat well (I have found that this is the best way to avoid mixture from curdling when the eggs are added in the traditional way- one at a time), always also make sure your ingredients are at room temperature. Once butter & sugar is pale & creamy, gradually add the beaten egg & beat on medium speed, scraping down the sides of the bowl. Beat in the vanilla, lemon zest & lemon juice. Using a spatula fold in the flour & bicarbonate of soda, mix smooth, then fold in white chocolate chips, you want the batter to be a slow dropping consistency, if not, add a tablespoon of sour cream & mix smooth. Use a spring loaded scoop to fill each cupcake cases to just above ½ filled. Bake on middle shelf for about 18-20mins or until a cake tester/wooden cocktail stick comes out clean. Cool in the tin 5 minutes, then cool completely on a wire rack.
Make the frosting by whipping the softened butter until smooth with a handheld electric whisk, then gradually blend in the icing sugar, (to stop you getting covered in icing sugar- after you have beat in a few tablespoons of the icing sugar, you should be able to mix in the rest of the icing sugar)- then use the handheld whisk on the medium speed until smooth, then increase to high for about 5 minutes, then use medium speed to blend in the raspberry jam & the lemon curd until smooth. Use a large drop flower nozzle to pipe frosting on to your cupcakes, add a little fresh raspberry if liked, also add a large white chocolate button just off centre. If liked, you can melt about 6 chunks of white cooking chocolate with a teaspoon of seedless raspberry jam, mix smooth, use it to drizzle over the cupcakes.
Other recipes you might like