Print me
Introduction
I first had this as a child in Singapore usually made by our armour, since then this recipe has evolved over a period of time and is a family favourite loved by young and old. A very adaptable Rice based dish, is ideal to cook especially after a sunday roast pork. All leftover vegetables work really well mixed with the rice.
8 ounces basmati rice (or similar - washed)
2 eggs (for omelette)
2 tablespoons milk
2 tablespoons olive oil
1 knob of butter
pork (cooked and cut into cubes)
roughly chopped onion
chopped garlic
bacon (cut into small pieces)
tinned sweetcorn
red bell pepper (or other colour peppers - cut into strips)
mushrooms (optional)
soy sauce
any vegetables (leftovers - cut into small pieces)
Method
Nasi Goreng is a community recipe submitted by mick clow and has not been tested by Nigella.com so we are not able to answer questions regarding this recipe.
Start by cooking the rice (either basmati or other long grain variety), this can be by steamed or cooked in a pan. Leave to cool.
Whisk the eggs the milk and season with salt and pepper, heat half the oil in a non stick pan make a nice thin omelette, slice and set aside.
Using a large frying pan or Wok Fry the onions, bacon, peppers and garlic in knob of butter and olive oil. When cooked, add the pork, leftover vegetables, or cooked vegetables of your choice (broccoli, carrots, parsnips, swede, cabbage, peas etc.) and stir fry for a couple of minutes. add the mushrooms and cook a further minute.
Mix in the cooked rice, and sweetcorn and stir for a further 2 minutes so that all the ingredients are mixed together and heated through. Season with Soy sauce to taste.
Add the sliced omelette and sir in.
Transfer the Nasi Goreng to a serving dish. Serve piping hot, with a sprinkling of chopped fresh coriander or parsley to garnish.
Additional Information
You can adapt this recipe as you like, for example you could use leftover chicken, or add prawns. Hope you enjoy it and tell me your thoughts.
Other recipes you might like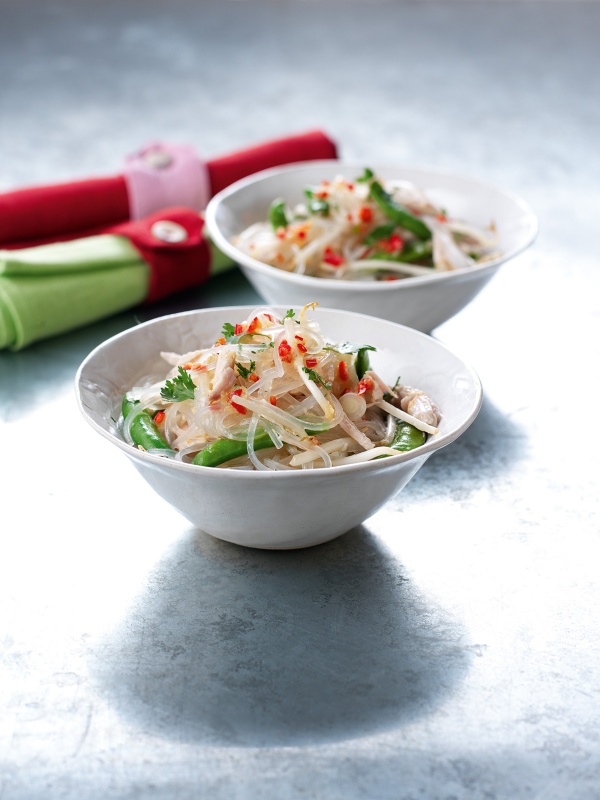 Turkey and Glass Noodle Salad