Print me
Introduction
I've always found the pasta/marinara sauce in restaurants to have a strong pungent scent so I went about creating my own. The recipe is 'so' creamy but doesn't use any dairy. You can use either frozen "seafood cocktail", including prawns, squid and mussels - or fresh ingredients. If it's the latter, you will have to add the prawns and squid first and the mussles later. I hope you enjoy this simple dish as much as I do.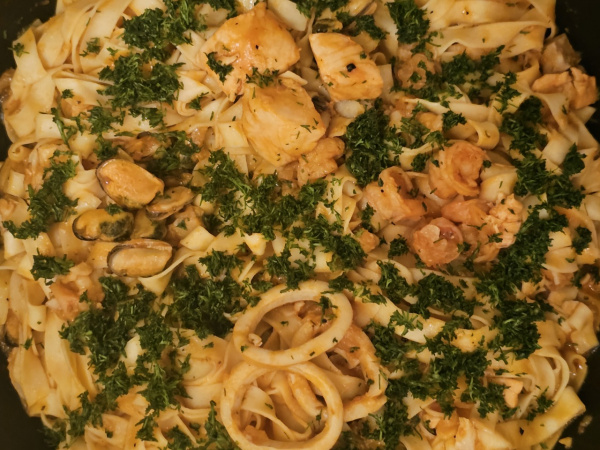 300 grams squid (cooked)
300 grams mussels (cooked)
300 grams king prawns (cooked)
1 packet fish ( fish pie mix, eg. cod, haddock, salmon)
1 medium onion (chopped)
½ bulb garlic (chopped)
1 teaspoon salt
1 teaspoon black pepper
1 teaspoon dried dill
1 tin tomatoes
1 bunch fresh dill (rinsed and finely chopped)
3 knobs of butter French (President)
2 packets fresh pasta (egg pasta is preferable)
Please note that nigella.com is not able to accept responsibility for any substitutions that Ocado may need to make as a result of stock availability or otherwise. For any queries, head to ocado.com/customercare.
Feel free to use the "swap" feature and adjust brands and quantities as needed.
Method
Moreish Marinara is a community recipe submitted by abdulmismail and has not been tested by Nigella.com so we are not able to answer questions regarding this recipe.
Finely chop onions, and slice garlic, add salt, black pepper, dry dill.
Fry all of the above in 3 tablespoons of hemp oil (you can use extra virgin olive oil if you want).
Thaw the frozen seafood cocktail and ensure you slice the prawns down the spine to remove any dirt. Add the now-thawed and cleaned cooked seafood cocktail; cook on high heat with the lid on ( If you've chosen to use fresh ingredients, make sure you a) slice the prawns down the spine to clear the dirt and cook that with the squid first and then b) add the mussels later).
Add fish pie mix; cook on high heat for 5 minutes with lid on..., gently stirring as not to break up the fish.
Add President butter (President is a French brand of butter and I find is the best for cooking).
Blend plum tomatoes and add to sauce; cook on high heat for 5 minutes. Use a smoothie machine, if you have one otherwise use a low setting on a food mixer/blender - until there are no tomato chunks left.
Reduce heat and simmer for 20 mins with lid on.
Dice fresh dill (rinsed and squeezed) and add to sauce.
To cook the pasta, boil water and add some salt.
Cook pasta for 2.5 minutes (i.e. 30 seconds less than required), drain then add to Marinara sauce (if you use dry pasta, cook for longer depending on instructions on packet).
Cook the pasta in the Marinara sauce (on simmer) for about 3 to 5 minutes, gently folding the pasta into the sauce.
Additional Information
With respect to the fish pie mix, ingredients consist of an equal amount of salmon, cod and smoked haddock.
I use Tesco Fish Pie Mix, 340 grams.
It's the smoked haddock which enhances this dish's flavour so if possible, try to ensure the smoked haddock is not omitted.
Other recipes you might like