Print me
Introduction
When there was not much left in the cupboards my Mum threw together a dinner with what she had. This particular recipe became a family favourite and is still made by us all.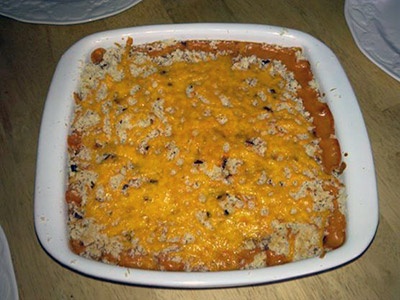 1 large white onion
2 cups milk
1 tin baked beans
1 tin diced tomatoes
1 cup all-purpose flour
1 grating Cheddar cheese (or Leicestershire Cheese)
1 sprinkling of breadcrumbs
Please note that nigella.com is not able to accept responsibility for any substitutions that Ocado may need to make as a result of stock availability or otherwise. For any queries, head to ocado.com/customercare.
Feel free to use the "swap" feature and adjust brands and quantities as needed.
Method
Underwood Beanie Thing is a community recipe submitted by orfordpiece and has not been tested by Nigella.com so we are not able to answer questions regarding this recipe.
Slice the onion and add to a large saucepan with butter.
Gently heat on the hob to sweat the onion in the butter.
Add flour to make a roux (thick mix of the butter, flour and onion).
Add milk (about 1 pint) and beat until it is smooth and thick.
Add cheddar (or leicestershire) cheese to the sauce to taste.
Add 1 tin of baked beans to the sauce.
Add 1 tin of peeled tomatoes to the sauce.
Transfer the mixture to a casserole dish.
Sprinkle breadcrumbs over the top and some more grated cheese.
Bake in the oven at 180ºC for 40 minutes. Serve and Enjoy!
Other recipes you might like