More recipes
Recipe search
Persimon and Mozzarella Salad
A community recipe by

SpanishPersimon

Not tested or verified by Nigella.com
Print me
Introduction
Make this elegant starter with just a few simple ingredients!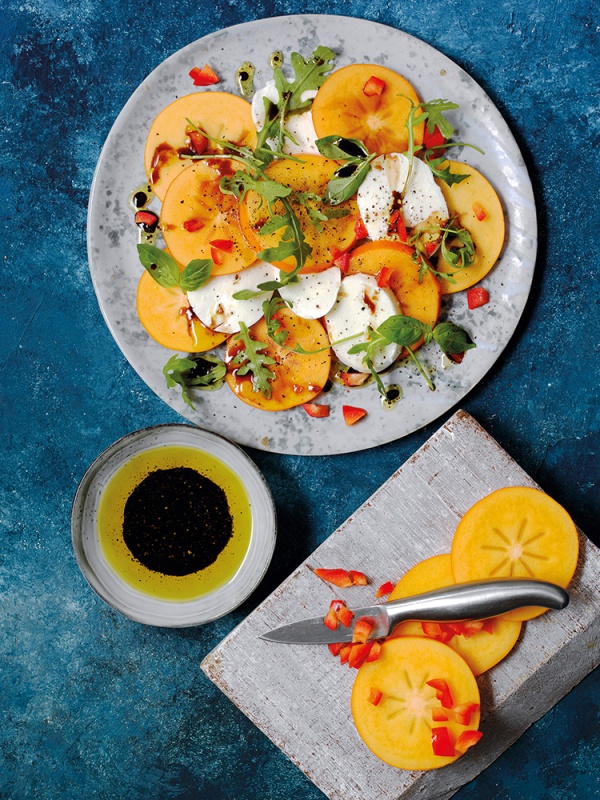 Salad
4 persimmons
300 grams mozzarella (sliced)
4 tablespoons red peppers (finely chopped)
basil leaves to garnish
Dressing
3 tablespoons olive oil
2 teaspoons clear honey
1 tablespoon balsamic vinegar
ground black pepper
Method
Persimon and Mozzarella Salad is a community recipe submitted by SpanishPersimon and has not been tested by Nigella.com so we are not able to answer questions regarding this recipe.
Cut the persimon into slices, removing their leafy stems.
Arrange the sliced persimon on 4 serving plates with the mozzarella and rocket. Sprinkle with chopped pepper.
Make the dressing by mixing together the olive oil, honey and balsamic vinegar. Season with a little salt and pepper, then drizzle over the salads. Serve at once, garnished with basil leaves. Cook's tip: Add a little heat by sprinkling some finely chopped red or green chilli over the salads.
Other recipes you might like